'News' Or 'Point Of View'? Anchor Tamron Hall Does Income Inequality Advocacy Promo For MSNBC
'News' Or 'Point Of View'? Tamron Hall Does Income Inequality Advocacy Promo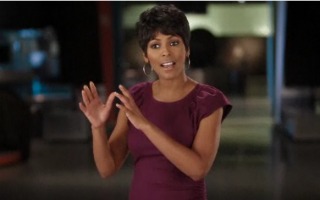 Chances are you're at least somewhat familiar with MSNBC's "Lean Forward" campaign, which features the network's hosts and anchors offering up their take on the issues they're most passionate about, be it Social Security or voting or how the GOP is like a group of children going after delicious blueberry pie. Tamron Hall, who hosts NewsNation at 2 pm, devoted her ad to discussing how support for our nation's troops shouldn't be an issue divided by political affiliation, race, sexual orientation. Her newer ad, however, takes a look at income inequality — certainly a far more partisan, politically fraught issue than expressing support for our nation's troops.
RELATED: New Republican 'Lean Backwards' Ad Mocks Rachel Maddow's Hoover Dam Commercial
Here's what she says:
To ignore the conversation of income inequality would be a grave mistake. It is tied to the economy, it is tied to the American dream. Because if you don't think you're getting a fair shot, how can you believe that the American dream is possible? It truly is, then, just a dream, if we don't have this conversation.
While not exactly a particularly shocking point of view for an MSNBC personality to have, Hall's new ad seems to undermine the network's own assertion that its opinion programming begins at 3 pm — right after Hall's show.
As Politico's Dylan Byers reported just last week, MSNBC believes it provides both straight news shows and evening "point of view" programming:
MSNBC considers everything from 3 p.m. into primetime to be "point of view" shows. That includes Martin Bashir, Dylan Ratigan, Chris Matthews, Al Sharpton, Ed Schultz, Rachel Maddow, and Lawrence O'Donnell.

Meanwhile, the shows that run from 9 a.m. to 3 p.m. are not "point of view" shows. That includes Chuck Todd, Chris Jansing, Alex Wagner, Andrea Mitchell, and Tamron Hall.
Even if you find yourself more or less in line with the slant MSNBC offers, you have to admit that its morning coverage isn't without a clear left-leaning bias, even if its offers something distinct from the network's primetime "advocacy programming." And while leaning left can mean many different things — Ed Schultz's take on an issue may be markedly different from, say, Thomas Roberts' — MSNBC's daytime programming reflects a certain ideology, both in its choice of stories and the way these stories are presented and discussed with guests or among panelists.
So why not own it? It should be noted that Andrea Mitchell — whose show is at 1 pm, right before Hall's — has an ad on, as MSNBC labeled it, voter suppression — another politically charged topic.
Have a look at Hall's ad, via MSNBC, and let us know what you think:
h/t Johnny Dollar
Have a tip we should know? tips@mediaite.com