News Or Promotion? MSNBC's Dylan Ratigan Cheers On His Sponsor While On The Road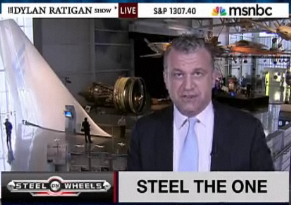 Dylan Ratigan has been taking his MSNBC show on the road in a series of programs titled "Steel on Wheels" and aiming to help American workers and companies thrive in a weakened economy. The steel company Nucor Corporation was announced as a partner for the innovative series, providing "logistical and financial support" for the program, yet the most innovative idea may have been what Nucor was able to receive in return for their investment.
On yesterday's show, Ratigan gushingly described the business competence of his sponsor:
"The companies who are thriving have seen their continued success by growing with and adapting to the times in the face of the rigged trade that is China. A perfect example, Nucor Steel partners with us in the "Steel on Wheels" tour and we had the opportunity to tour their steel-making facility and learn about the incredible process [of making steel]. . . . For more than a century in fact, Nucor in Seattle has been producing steel and producing a culture of incredible efficiency, innovation and incredible product. The idea there is that people matter more than profits."
Given that Ratigan frequently mentions Nucor is a partner on the series, at least viewers are made aware of the rationale for why such flattering coverage is lavished on the company. However, the fact remains that watching Ratigan's segment, which easily could have been confused for a human resources video to boost Nucor employee morale, was a bit off-putting.
Dan DiMicco, Chairman and CEO of Nucor Corporation, said "we are very excited about our partnership with The Dylan Ratigan Show. We share with Dylan a deep concern about the state of the American economy and a belief that bold actions must be taken to spur economic growth and create jobs." Nucor practices what they preach, as it is certainly a bold action to attempt to successfully transform time on MSNBC into an infomercial to promote the company's own economic growth. Yet it's a bit disappointing that Ratigan's reporting couldn't be similarly bold in return.
Watch the clip from MSNBC below:

Have a tip we should know? tips@mediaite.com