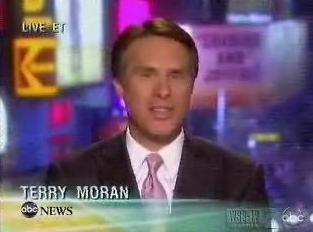 The late night supremacy debate has recently been framed as a battle between the longtime CBS star David Letterman and the recently promoted NBC host Conan O'Brien.
But there's a third participant in the debate, making its presence felt in a big way. ABC's comedy-counter-programming of Nightline, providing a news alternative to those who want another option before they drift to sleep, is winning. And in a post-Leno late-night, it's becoming a regular occurrence.
For four weeks during June and July, Nightline was the top-rated late-night show, and has seen big year-to-year gains. Last week Nightline finished 2nd, just behind CBS' Late Show. But it again beat NBC's Tonight Show for the fifth straight week – the first time that's happened since 1995.
So how is this happening? One of the major reasons is the absence of Jay Leno, a factor Nightline executive producer James Goldston fully acknowledges.
"What happened in June was a big change in late night, when Leno left," Goldston tells Mediaite. "That was always going to be big. He was a formidable presence in late night, and what we've seen happen since is a lot of viewers have taken the opportunity to see what's out there. "
And they've seen the viewers stick around. This is in part to what happens beyond the half-hour each night. Nightline has a big Twitter presence, and Web only shows as well (and Goldston says there are "new innovations and approaches" in the coming months). But it is through Twitter the show can communicate with its audience. "Every single day, many times a day, we are having a dialogue with two million people," says Goldston. "It's a formidable opportunity for us."
But what happens when Leno comes back? Will that help boost Conan's ratings? And will the recent success from Nightline during a summer not lacking big stories (Michael Jackson, health care…Beer Summit) be able to carry over to the fall?
Despite the strong ratings, there are still questions about whether ABC sees Nightline in the network's long-term plans, or whether the goal may to put a comedy competitor in its place (like moving Jimmy Kimmel up a half hour). Goldston says "we earn our place every single day by quality of what we put on" – and they've earned a big endorsement from ABC. Why mess something up that's working?
ABC's Nightline continues to surprise, but the longer it brings in the ratings, the more it is obvious the show should be sticking around.
Check out part of last week's Nightline Obama interview:

—–
» Follow Steve Krakauer on Twitter
Have a tip we should know? tips@mediaite.com