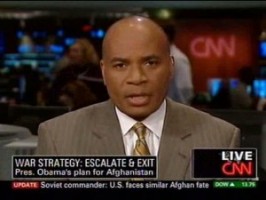 CNN has long maintained they are the newsiest cable news network, and it's been an answer they've stuck to as their prime time ratings have declined.
When looking at November ratings, in news vs. news hour comparisons, CNN far surpasses MSNBC – while Fox News maintains a huge lead overall.
From 9amET-4pmET, Fox News, CNN and MSNBC are all in news programming (obviously, some would argue differently, but this is the conventional wisdom). During that time, CNN tops MSNBC in every hour in total viewers, and in the A25-54 demographic, the difference between the two networks is even more glaring. Before we get into the breakdown, Fox News has an enormous lead over all networks in every hour, in every category.
At 9amET-4pmET, MSNBC finished in 5th place, behind FNC, CNN, HLN and sister-business network CNBC. Those include some of their newer programs, like Morning Meeting and Dr. Nancy. During all of these hours, except 9amET, CNN finished 2nd in the demo, with HLN 3rd and CNBC 4th.
In total day, CNN and HLN beat MSNBC during November in the demo. Despite the win by CNN over MSNBC, it should be noted both networks had their worst months of 2009 in total day demo.
Beyond 4pmET, questions about news and opinion start entering the picture, as FNC's Neil Cavuto takes over. And obviously, during prime time, MSNBC, HLN and FNC are all in opinion programming. MSNBC can claim a big victory over CNN during that time – as can CNN's sister network HLN. But at 8pmET, HLN's Nancy Grace once again topped MSNBC's Keith Olbermann in the demo. Fox News, of course, was way ahead of them all.
CNN's November release pressed their news chops, and their silver medal victory (Fox News no longer is even a competitor) over MSNBC during those hours. And another thing took place – due to the huge ratings during 2008 for the election, CNN omits it and says it is positioned for their best year in five years for today day and prime time, in total viewers and the demo. This shouldn't be diminished – and neither should the daytime comparison.
While prime time has largely been a focus here and elsewhere, the daytime hours are important as well. And as Fox News leaves the competition in the dust, CNN can claim a head-to-head, news vs. news victory over its new major competitor, MSNBC.
—–
» Follow Steve Krakauer on Twitter
Have a tip we should know? tips@mediaite.com