Newsmax's Ronald Kessler On White House Construction: They're Building A Top Secret Underground Bunker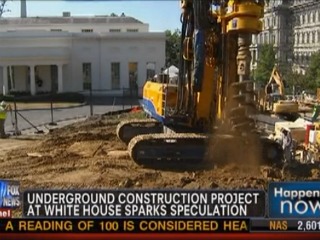 A new construction project underway at the White House has some wondering what, exactly, is going on over at 1600 Pennsylvania Avenue. While the official word is that America's most famous address is having new water pipes and other such utilities installed or upgraded, Newsmax chief Washington correspondent Ronald Kessler says that just isn't the case.
Kessler, author of In the President's Secret Service: Behind the Scenes with Agents in the Line of Fire and the Presidents They Protect, appeared on Fox News this afternoon to share that, actually, the White House is building a "top secret" underground bunker so that government may continue to function "in the event of an attack, be it nuclear, biological, or radiological."
But if the project is indeed so top secret, why is it being built so openly and in plain sight?
Well, you know, they do have to excavate dirt; they can't hide that. But what they're doing is they're putting out this cover story that it's just moving utilities around and that sort of thing. They had the same cover story when they did a similar bunker at the Vice President's residence, the Naval Observatory. They said it was just utilities. In fact, it was a top secret bunker to shield the Vice President in the event of a major attack.

Remember, Biden let the secret out at a Gridiron dinner, and then he tried to cover it up by saying, no, he was talking about something else.
To clarify that last point: At the 2009 Gridiron Club dinner, Biden described a room in his residence that was located "behind a massive steel door secured by an elaborate lock with a narrow connecting hallway lined with shelves filled with communications equipment." At the time, much was made about Biden having accidentally "blurted out," as it were, a secret, secure hiding place in the vice presidential residence. But this turns out to have been misreported.
Biden's spokesperson came out and explained that Biden had actually been describing an "upstairs workspace in the residence," which was "converted into an upstairs guestroom when the Bidens moved into the residence." Moreover, there had been "no disclosure of classified information" during the dinner.
For what it's worth, former vice president Dick Cheney also made mention of a room within the residence — along with other "hiding places" — in his recently published memoir, In My Time.
But back to Kessler. Later on, he added that "there will be relocation of utilities, so they're not totally lying," but that the White House's reports about needing walls, concrete pilings and the like to house utilities is simply not the full truth. But, he continued, don't expect them to come clean about it.
We asked our own resident White House correspondent, Tommy Christopher, to weigh in. "In three years of covering this White House," he said, "I've seen lots of reporters get jacked up by the Secret Service (myself included) for photographing things on the grounds, but nobody has hassled us about photographing this construction project. This has been going on for well over a year now, so I think this story is another case of the Slow News Day Flu."
Have a look at Kessler's explanation, via Fox News:
Have a tip we should know? tips@mediaite.com