Newsroom Writer Says Aaron Sorkin Kicked Her Out for Questioning Campus Rape Plot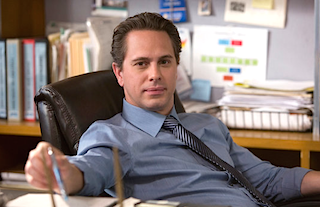 In his wildest fantasies, Aaron Sorkin could not have imagined that his fictional campus rape subplot on The Newsroom would coincide with the real-life controversy over Rolling Stone's factually-challenged report on a very similar incident at the University of Virginia.
But there it was in last night's penultimate episode of the series, with ACN producer Don Keefer visiting Princeton University to interview a student who started a website to out her accusers after she said campus and local authorities did nothing to prosecute them for their alleged crimes.
And now, thanks to a handful of tweets from one of the show's female writers, we know that Sorkin did not appreciate his narrative on this issue being challenged.
The reaction to the way Sorkin's supposedly-idealized news organization handled its investigation was swiftly criticized by a large swath of TV critics, including The New Yorker's Emily Nussbaum, who has long been severely critical of the show.
"Look, 'The Newsroom' was never going to be my favorite series, but I didn't expect it to make my head blow off, all over again, after all these years of peaceful hate-watching," she wrote in a piece published online Sunday night. Specifically, it was Don's "moral obligation" to believe the accused over the accuser that made Nussbaum exclaim, "WTF LOL OMFG."
Nussbaum continued:
Yes, that's correct: Don, the show's voice of reason (and Sorkin, one presumes), argues that a person has a moral obligation to believe a man accused of rape over the woman who said he'd raped her, as long as he hasn't been found guilty of rape. This isn't about testimony, or even an abstract stance meant to strengthen journalism. ("Personally, I believe you, but as a reporter, I need to regard your story with suspicion, just as I do Jeff's.") As an individual, talking to a rape survivor, Don says that on principle, he doesn't believe her.
In response to Nussbaum's assessment, The Newsroom writer (and Yale Drama School-trained playwright) Alena Smith shared her experience of working on the episode on Twitter:
As @emilynussbaum points out in her review of tonight's ep, you can't criticize Sorkin without turning into one of his characters.

— Alena Smith (@internetalena) December 8, 2014
So when I tried to argue, in the writers' room, that we maybe skip the storyline where a rape victim gets interrogated by a random man…

— Alena Smith (@internetalena) December 8, 2014
I ended up getting kicked out of the room and screamed at just like Hallie would have for a "bad tweet."

— Alena Smith (@internetalena) December 8, 2014
I found the experience quite boring. I wanted to fight with Aaron about the NSA, not gender. I didn't like getting cast in his outdated role

— Alena Smith (@internetalena) December 8, 2014
Ouch.
[Photo via HBO]
— —
>> Follow Matt Wilstein (@TheMattWilstein) on Twitter
Have a tip we should know? tips@mediaite.com