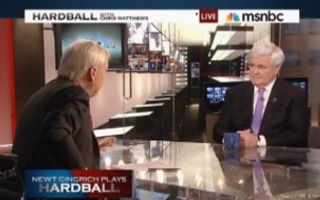 Former House Speaker Newt Gingrich and MSNBC host Chris Matthews have always had a rocky relationship – Matthews has said that Gingrich "scares me" and said "dogs walk away when they see him." That was mere prelude to today's fireworks, however, when Gingrich appeared live on Matthews' MSNBC program Hardball with topics that ranged from the GOP primaries to Romney's vice presidential search and finally to Gingrich's love of animals and zoos.

RELATED: Chris Matthews On 'Nasty' Looking Newt Gingrich: 'Dogs Walk Away When They See Him'
"He operates at a different level of debate for the simple reason, he thinks at a different level of discussion than his opponents," said Matthews introducing Gingrich.
"You're smarter than you talk sometimes," said Matthews. "How much does it burn you that Mitt Romney, a man who I am convinced — check me on this — is not deeply rooted in American history, beat you with money?"
"Mitt Romney did what he had to do in order to become the nominee," said Gingrich. "When it got to the crunch, he was tough enough and smart enough to beat me in Florida."
"Did he tell the truth about you," asked Matthews.
"No," said Gingrich.
Matthews said that Romney has "no historical understanding of the presidency," but Gingrich stopped Matthews before he could finish his thought.
"Having collided with him head-on and having collided with his organization head-on and now working with him and the campaign, he has assembled a very smart group of people," said Gingrich. "He is approaching this as methodically as anybody I know."
Matthews confronted Gingrich over his making a campaign issue out of food stamp dependency in the 1980s and today which Matthews said had a racial connotation. "Reagan's welfare mother…"
"Welfare queen," interrupted Matthews.
"Welfare queen — could have been any background," said Gingrich.
Matthews paused. "Yeah right," he said eventually.
In the second segment, Matthews asked Gingrich why some members of his party believe that President Barack Obama was not born in this country. "Beats me," said Gingrich. "Thank you," Matthews responded.
Matthews asked if Gingrich would get a primetime speaking slot at the GOP convention in August. Gingrich said no, but he would "get whatever the Romney camp will give me."
"You're just a supplicant now," said Matthews.
"I'm a team player," Gingrich responded.
Towards the end of the second segment, Mathews brought up Gingrich's frequent trips to local zoos while on the campaign trail. "What's you and animals about," asked Matthews.
"I love animals in zoos," said Gingrich who said San Diego and Elephants were his favorite zoo and animal respectively.
In a discussion about Gingrich's love of snakes, Matthews asked what Gingrich's favorite snake was. The python, Gingrich responded, because it is "big and passive."
Matthews thought Gingrich's favorite snake would be the black mamba because it strikes frequently and attacks the nervous system with its potent venom. "You have a more ruthless approach to politics than I do," said Gingrich.
Watch the segment below via MSNBC:
Part 1:
Part 2:
Have a tip we should know? tips@mediaite.com