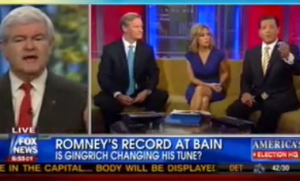 During an otherwise calm segment on Thursday morning's Fox & Friends, guest co-host Eric Bolling pointed out to GOP hopeful Newt Gingrich that maybe he was being too hard on venture capitalism — in particular, Mitt Romney's old company, Bain Capital. Gingrich strongly disagreed.
"Mr. Speaker, you are attacking the essence of capitalism," Bolling suggested.
"No I'm not," Gingrich responded.
"Venture capitalism is taking risks," Bolling said. "Bain Capital took risks on companies that likely may have failed had they–"
"Steve, wait a second, you don't even know," Gingrich interrupted, thinking it was host Steve Doocy talking. "You have no proof, they are a totally private firm, they have never explained what they did."
"But that's what they do– I'm no fan–"
RELATED: Risky Bets, Family Values, And The Politics Of Tebowing: A Chat With Fox's Eric Bolling
"I don't have any question about the general process of entrepreneurial conservatism," Gingrich said. There are a series of cases that don't look right. And I'm saying, for a guy to run for President, use his record as the basis for running, and then tell us we're not allowed to ask about his record?"
Bolling tried to follow up with a series of interjections:
"Sir, let me follow that up–"
"But, but sir–"
"Mr. Speaker, let–"
…but Gingrich plowed through, with Bolling resigned to listening, before they eventually ran out of time on the segment and hurriedly cut to break.
Watch a clip of the exchange below, courtesy of Fox News:
Have a tip we should know? tips@mediaite.com