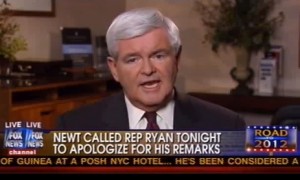 How is your week going? Most likely its going much better than GOP presidential candidate Newt Gingrich. Why? Just days after officially announcing his candidacy, respected political pundit Charles Krauthammer said of Gingrich's candidacy "It's done, it's over." Last night during an appearance on On the Record Newt continued to walk back his Sunday critique of Paul Ryan's health care plan, in a stark manner.
To say that Gingrich is in crisis mode is not necessarily hyperbole. The former House Speaker and GOP thought leader has been toying with running for president for what seems like years now, and coming out of the gate, he has more than stumbled; he's fallen flat. It all started when he appeared on Meet the Press on Sunday and told host David Gregory that he believed that there should be an individual mandate, before labeling the plan put forth by Rep. Paul Ryan (R-WI), and supported by nearly the entire House Republicans, as "radical."
Since then he's put out his own YouTube video repudiating the comments he made on Sunday, but had to deal with rejections from various political leaders including SC Governor Nikki Haley and Eric Cantor (R-VA.) Host Greta Van Susteren deserves credit for not only booking Gingrich, but for providing a tough interview with her former Fox News cohort.
Ginrich's walking back of these comments in such thorough and dramatic fashion appears to indicate that he recognizes the folly, or he is not tone deaf to the roar of criticisms from his GOP peers. Nonetheless, one can imagine a future campaign ad that mimics the classic John Kerry video clip of "I was before it before I was against it." And while Gingrich appears to be taking someone of a litigious position with statements of "falsehood" and the impression of libel, its very difficult to imagine that he and or campaign would ever pursue such a case, guaranteeing that this confusing chapter in Gingrich's candidacy stays in the news.
Watch the clip below, courtesy of Fox News, (via Mother Jones)"

Have a tip we should know? tips@mediaite.com
Colby Hall - Founding Editor