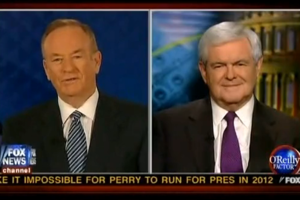 Last night Bill O'Reilly continued to express his frustration with President Bush's refusal to comment on current events and looked to Newt Gingrich for comfort.  Newt predicted that "in the next year and a half you're going to see President Bush give positive speeches, not criticize anybody, but offer some advice on where he thinks the country has to go . . . and he has a lot to offer if he decides to do it."
Although that means O'Reilly will have to wait for the headline-making interview featuring Bush's problem-solving solutions that he so desires, what we do get now is a preview of what Bush's rebounding approval numbers will mean for the next election cycle.  Apparently, it's now safe for likely Republican candidates for President to not only defend Bush, but to also hope that he will be a force on the campaign trail within the next year and a half.         
When O'Reilly asked for Newt's thoughts on whether Bush destroyed the GOP, as a House Republican recently suggested, Newt confidently declared that was not the case.  Newt bolstered his defense of Bush by attributing the GOP's past tough period to Republican members of Congress, saying "I hope that the House and Senate Republicans realize reform is their responsibility, they have no one to blame, their job is to go out and get the job done."  Interesting to see whether Newt also thinks President Obama is as blameless for the recent Democratic congressional losses? 
The segment from last night's Factor via Fox News below:

Have a tip we should know? tips@mediaite.com