Newt Gingrich Attacks President Obama's Energy Policy: 'You Cannot Put A Gun Rack In A Volt'
Newt Gingrich On Obama's Energy Policy: 'You Cannot Put A Gun Rack In A Volt'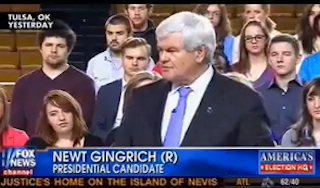 On Monday, Republican hopeful Newt Gingrich spoke at a town hall at Oral Roberts University in Tulsa, Oklahoma, and criticized the Obama Administration for encouraging Americans to buy more fuel-economical vehicles.
"The President has said, you know, you ought to buy smaller cars," Gingrich quipped. "Now, let me start with a simple premise that most Oklahomans will understand: You cannot put a gun rack in a Volt!"
The anchors on Fox and Friends, after playing the clip, followed up on Gingrich's assertion.
"You can't put a trailer hitch on it either, I would imagine, to pull something really big," host Steve Doocy observed.
Interestingly, guest host Eric Bolling defended the electric car, disputing Gingrich's claims.
"I drove a Volt for about a week or so," Bolling acknowledged. "I think you might be able to put a gun rack in the Volt and maybe even hitch something to the Volt. You won't be able to drive too far with the electric power."
RELATED: Whoops! Fox and Friends Mixes Up GM With GE In Chevy Volt Report
"What about a trailer hitch?" Doocy quizzed.
"Maybe?" Bolling hesitated, then concluded, "No, because it switches from electric power to gasoline."
"That will just happen quicker if you're pulling a heavier load," co-host Gretchen Carlson added.
"It happens quicker if you turn the heat on, as I found out!" Bolling exclaimed. "I'm not kidding."
"What about the dome light?" Doocy joked.
"Can I just make this clear? It's a great car," Bolling acknowledged. "I loved it when I was on gasoline. I just couldn't deal with it when it was on power. That's all. GM, doing a good job. Just get that battery better, will ya?"
Watch Newt's remarks below via Fox News:

Have a tip we should know? tips@mediaite.com