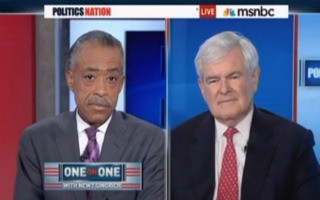 On Tuesday, Former House Speaker Newt Gingrich appeared on MSNBC with Al Sharpton. There, they discussed President Barack Obama, Republican presidential candidate Mitt Romney and the role that Newt Gingrich has played in the 2012 campaign.

RELATED: Newt Gingrich and Chris Matthews Square Off In Live MSNBC Interview
Sharpton introduced Gingrich saying that, while he disagreed with everything in the
"I am so impressed with your discipline and the way you've lost weight that I'm just in admiration of you," Gingrich began. "I'm starting the show a little bit awestruck."
"Well Good. I hope after we're finished I'll still be a role model," Sharpton replied.
Sharpton asked Gingrich what he thought former Massachusetts Gov. Mitt Romney's qualification were to be president, Gingrich replied that he believed that the excessive taxation and regulation overburdens the economy and prevents growth.
"What Romney represents is a fundamentally different approach," said Gingrich.
"But what is his plan," Sharpton asked. He said that the Obama economy has been adding private sector jobs for months. "Show me where Mr. Romney produced a job anywhere?"
Gingrich said that, while Massachusetts was 47th in the nation in job creation, Romney brought the state up from 49th and reduced unemployment to below 5 percent.
"You're asking Americans, Mr. Speaker, to vote for a man that brought his state from being second to last from being third to last? That's his job creation resume," said Sharpton.
"No, I'm asking Americans a very simple question: can they afford four more years," asked Gingrich.
Sharpton went on to cite a book that claims that Republicans, including Gingrich, held a secret meeting on Obama's inauguration night where they committed to defeat Obama in four years. "What he's done has been almost unbelievable against those kinds of odds, Speaker Gingrich," said Sharpton.
Gingrich promptly switched to formal names, upon hearing himself referred to by his title. He also admitted that he honored to be a part of that meeting.
"I'm glad you admit you had it, but go ahead," said Sharpton.
Gingrich said that it is obvious that Republicans would plan how to get the presidency back from a Democrat.
"No, but there is a qualitative difference in 'how do we get the White House' and that we are committed tonight to block everything he does, that we are going to be relentless and really care nothing about the fact that he was inheriting the worst economy since the depression by a member of your party," Sharpton fired back.
Gingrich outlined the governing opportunity that he said Obama inherited and the popular goodwill that he could have used to his advantage and how it was squandered by the President and by the Democrat-led Congress.
"From a standpoint of a hardline liberal, you'd never get 'Obamacare' though if he cooperated with Republicans. You'd never get the size of the stimulus through if he cooperated with Republicans," said Gingrich. "So he took a gamble." Gingrich said that Obama opted to achieve scale over lasting legislative compromise.
After the break, Sharpton asked Gingrich about "questionable" things he has said about poorer food stamp recipients. "Is this kind of talk, this kind of language you use, are you just playing to the right – as David Gregory asked you – with racially tinged language," Sharpton asked. "Do you still defend now what you said?"
Gingrich was stunned. "Let me start with my surprise that having a conservative who cares that there is 43 percent black teenage unemployment I would think is a good thing." He said that he has the same concern about Latinos who are unemployed. "When you have hard times, they are harder for ethnic minorities than they are for whites," said Gingrich.
"What I disagree with is when we have facts that are not correct," said Sharpton. He said that more white Americans were on food stamps than black citizens. "And to call the President a food stamp president – I mean, it's this racial line," Sharpton continued.
"You just made the point I made to David Gregory on Meet the Press," said Gingrich. He said he told him that there is nothing racially insensitive about calling an increase of food stamp recipients a problem.
"It is if you say you go to the NAACP and tell them that they should get pay checks not food stamps," said Sharpton. "You didn't go the NAACP and say you were going to help get whites pay checks for food stamps."
Gingrich replied that NAACP's mission is to help black not white teenagers.
"You and I know the subtleties and the subliminal message there," Sharpton went on. He asked again if Gingrich had no choice but to play to racial antipathy in order to rise within the Republican party.
"No," Gingrich replied. He challenged Sharpton for criticizing Gingrich on his unflattering characterization of inner city housing projects while the two were on tour in Philadelphia.
Sharpton continued to say that Gingrich was playing to the Republican base by using racial code words during the GOP presidential primary. Gingrich replied that, while he may not be saying it appropriately, the blight of places like Detroit signals the need for reform to him.
Finally, Sharpton asked Gingrich if he supported calls for Attorney General Eric Holder to resign.
Gingrich said that it was likely that Holder would be found in contempt by the House unless he hands over the requested documents relating to Fast and Furious. "This has nothing to do with him as a person," said Gingrich.
"But he says he wants to keep talking to the House," Sharpton replied
"They ought to work it out," said Gingrich. "If he has a contempt citation voted against him, his position will become impossible to sustain – just as a practical matter tying to be attorney general."
Sharpton closed the interview by asking Gingrich if next time he appeared on his program if he could "bring me one job that Mitt Romney produced."
Watch part I below via MSNBC:
Part II:
Follow Noah Rothman on Twitter
Have a tip we should know? tips@mediaite.com