Newt Gingrich Battles Wolf Blitzer Over Claim Gov't Shutdowns of 1990s Hurt GOP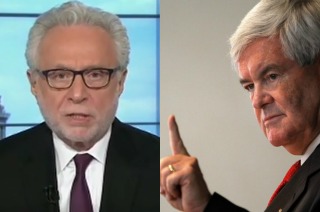 Former House Speaker Newt Gingrich, co-host of CNN's Crossfire, engaged in an argument with network anchor Wolf Blitzer on Wednesday over whether the Republican Party was politically damaged by the government shutdowns of the 1990s. After criticizing the GOP for offering no credible alternative to the Affordable Care Act, Gingrich insisted that it was "nonsense" that the GOP paid a political price for shutting down the government.

"I don't think we should shut the government down," Gingrich told Blitzer. "I think we should finance all of the government except Obamacare."
Blitzer observed that President Barack Obama would veto any bill that defunds the ACA which would result in a government shutdown. He asked Gingrich if he thought the GOP would pay a political price for forcing a shutdown considering the damage done to the Republican Party's brand by pursuing such a strategy in the 1990s.
RELATED: Newt Gingrich Attacks GOP 'Culture' That Rewards 'Vicious' Attacks But Not Ideas
"You know, I thought so at the time, and then as I got away from Washington and was no longer Speaker and thought about it for about two years, it occurred to me that's all nonsense," Gingrich replied. "The first reelected House Republican majority since 1938 occurred after the shutdown."
Blitzer argued that the price the GOP paid was the reelection of President Bill Clinton in 1996. When Gingrich charged that many factors beyond the shutdown led to that outcome, Blitzer insisted that it was a major factor that led to the reelection of the 42nd President.
"Incumbent presidents getting reelected is a lot more common than republican congress getting reelected in 1996," Gingrich asserted.
Watch the clip below via CNN:
> >Follow Noah Rothman (@NoahCRothman) on Twitter
Have a tip we should know? tips@mediaite.com