Newt Gingrich Blasts Brian Williams For Silencing Debate Audience: 'The Media Doesn't Control Free Speech'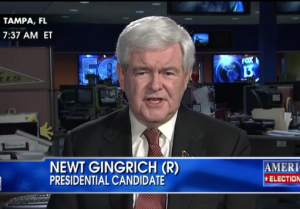 Newt Gingrich was a guest on Tuesday morning's Fox & Friends and discussed the latest GOP debate, his rivals, and his plans for winning Florida. He took time as the interview began, however, to chastise moderator Brian Williams for not allowing the audience to applaud after candidates had made their statements.
"Up until this point," host Gretchen Carlson said, "The audience has been your fan."
"Yeah, I wish in retrospect I'd protested with Brian Williams and took him out of it, because I think it's wrong. And I think he took them out of it because the media's terrified that the audience is going to side with the candidates against the media, which is what they've done in every debate. We're going to serve notice on future debates. We're just not going to allow that to happen. That's wrong, the media doesn't control free speech, people ought to be allowed to applaud if they want to. That's just silly."
Gingrich added that it's clear Romney has a new debate coach, but said that most of what he was saying was still, "fairly dishonest, as usual." He even said that some of Romney's old competitors from 2007 and 2008 warned him that Romney practices in prevarications.
Co-host Steve Doocy then challenged Gingrich on some examples of dishonesty from the debate. Gingrich was most heated at Romney calling him an "influence peddler."
Gingrich wasn't the only person, meanwhile, calling the debate's moderator out. The Washington Post's Alexandra Petri noted that the announcement by Williams might have taken the air out of its sails before it even began. "The night opened with Brian Williams, who was apparently off for the evening, telling the crowd to be sure not to make too much noise," Petri writes. "This turned out to be like warning the nursing home not to throw too many orgies. The only warning that mattered was the one he forgot to give, which was not to snore audibly or literally die from boredom in the course of the debate."
Watch Gingrich's interview on Fox & Friends below, courtesy of Fox News:
Have a tip we should know? tips@mediaite.com