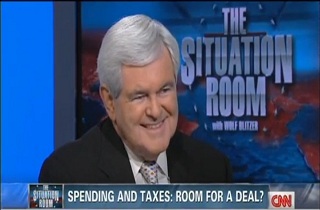 Former House Speaker Newt Gingrich responded to comments by Fox News honcho Roger Ailes during an appearance on CNN's Situation Room with Wolf Blitzer. Gingrich told Blitzer that he thought the charges made by Ailes were unfair but that they "are fine."
In a new biography by Zev Chafets , Ailes calls Gingrich a "prick" while saying that he was a "sore loser" about how the 2012 campaign turned out.
So, Blizter asked him about these comments.
"You used to be a Fox News Analyst. Roger Ailes, who is the head of Fox News, in this new book that Zev Chafets has was written about him, he quotes him as saying some nasty things about you, you've seen those quotes, I'm sure. What do you think about that?" asked Blitzer.
Gingrich went on to explain that he thinks Fox News was unfair to him during the Republican presidential primary but he remains unsure as to why.
"Roger is a big boy. He's said lots of things about lots of people in his career. I've been around a long time. I've had lots of different people say things about me," said Gingrich.
"You haven't spoken to him… since those quotes came out?" asked Blitzer
"No, I talked to him a couple of weeks ago. We're, we're fine. It's not…we don't have any personality fight," said Gingrich.
Satisfied, Blitzer closed out.
"That's that. You're a big boy. He's a big boy. And we move on," he said.
Watch clip below via CNN.
Have a tip we should know? tips@mediaite.com