Newt Gingrich Claims President Obama 'Promised To Sell Out Our Missile Defense' To Russia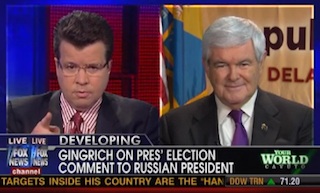 Newt Gingrich appeared on Your World this afternoon, ostensibly to discuss Rick Santorum cursing out a reporter. However, as much as there appeared to be a big grin on Gingrich's face as Neil Cavuto recounted his rival's potentially embarrassing encounter, the candidate quickly changed the subject making it clear that he was there to talk about something else. Using a segue about as smooth as some kind of half-brillo pad/half-cactus mutant, Gingrich countered Cavuto's question about whether Santorum had hurt his campaign by saying that "whatever damage is done to him is a lot less that what Barack Obama just did." Smooooooooooth.
Gingrich was, of course, referring to Obama's private conversation with Russian President Dmitry Medvedev which was accidentally done over a live microphone. Obama was heard telling the foreign leader that he would have "more flexibility" following the election in November to discuss "all these issues, but particularly missile defense."
Gingrich's non-swearing competitor Mitt Romney has already attacked the comment, declaring Russia our "number one geopolitical foe." Not to be outdone, Gingrich claimed that Obama was "promising to sell out our missile defense."
Cavuto was fairly incredulous, reacting with similar skepticism to CNN's Wolf Blitzer when he responded to Romney. The Fox News host pointed out that Obama could very well have just been saying that things rarely get done during an election year and asked the candidate what he really thought the President was planning on "selling out." But Gingrich wouldn't back down, claiming that Obama's policies have all been about "appeasement, weakness, and apology."
Gosh, it's a good thing this guy didn't hear earlier in the conversation when Obama promised to make Vodka our national drink.
Watch the clip from Fox News below:
Have a tip we should know? tips@mediaite.com