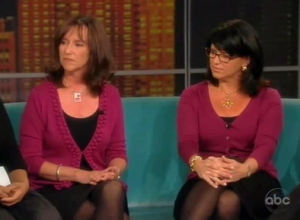 Kathy Gingrich Lubber and Jackie Gingrich Cushman, daughters of Newt Gingrich from his first marriage to Jackie Battley, appeared on The View today in matching cardigans to argue that their dad should be the next President of the United States. Their dad being who he is, however, they spent most of their time defending his personal life.
When Barbara Walters asked Kathy and Jackie why they believe Newt is the best candidate, they argued that he is the only person in the race with governing experience who has a record of balancing the budget effectively and handling entitlement reform. They expressed regret that negative ads have made it difficult to get an idea of any of the candidates' policy proposals, but Jackie also seemed to think that the primary season has given the candidates the opportunity to clearly hone their messages. This logic was a bit brain-scrambly, but it didn't matter because Barbara Walters shifted gears shortly afterward and asked them about rumors that Gingrich served his first wife (their mother) with divorce papers while she was in the hospital being treated for cancer.
Related – New Mitt Romney Ad Attacks Newt Gingrich On Electability
Both daughters dismissed this as an urban legend (as Jackie put it, "That's not true, but thank you for asking," in another odd turn of phrase), pointing out that they are still very close with their father and mother, despite the divorce. Barbara also asked about Newt Gingrich's second wife, Marianne Gingrich, who alleged that he asked her for an open marriage when he was having an affair with Callista. Jackie Gingrich addressed this by saying that her father has been very open about "making mistakes, having sinned, asking god's forgiveness" and that she thought those were qualities voters would respond to positively in a presidential candidate.
Related – Nightline Preview: Marianne Gingrich Says Newt Gingrich Wanted An Open Marriage
Leave it to Joy Behar to ask the final, obvious question at the end of the segment: "Do you like Callista?" As she asked this, an enormous and rather terrifying photo of Newt and Callista appeared on the screen behind the seated hosts and the Gingrich daughters. "She's a trooper," both daughters agreed. You can see the clip below via ABC:
Have a tip we should know? tips@mediaite.com