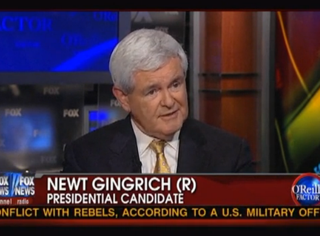 Defying most political conventional wisdom, former House Speaker Newt Gingrich and his campaign debt are still in the race– not the least because, Gingrich argued tonight, money flowed into the campaign because of the publicity given to its problems. On tonight's O'Reilly Factor, Gingrich told host Laura Ingraham he wasn't going anywhere and took no heed to the "elite media" who kept "explaining I was dead," sounding optimistic about his future.
"We got many new donors coming out of Thursday night who went to Newt.org and gave money voluntarily," he told Ingraham– Thursday being the night Gingrich spent slamming Fox News at their own debate– noting that the bad publicity, "frankly, that's all been very helpful in rebuilding the campaign." He insisted that he was not interested in competing in any polls other than the actual elections in January, "when there are delegates being picked," and that there was plenty of time.
Gingrich also spent some time talking about the money factor and arguing the money doesn't matter. "McCain was consistently outspent by Romney and Giuliani," he argued, as well as Reagan, and neither of them seemed to have a problem with winning nominations. "Ideas do matter in the end," he argued, and he had a number of ideas he didn't think would otherwise be discussed on the campaign trail:
"an American energy plan, how you would go about dramatically reshaping the government in ways that I think the other candidates don't talk about… how you deal with Alzheimer's and autism and a variety of other things that relate to brain science, how you modernize the FDA, how you replace the EPA with an environmental solutions agency."
Gingrich concluded not on himself, however, but on President Obama, and how he was clearly the wrong choice because he "has a deluded view that class warfare and bureaucratic socialism can work"– challenging President Obama in a way intending to prove he wasn't planning on dropping out anytime soon, especially before delegates were at play.
The interview via Fox News below:

Have a tip we should know? tips@mediaite.com