Newt Gingrich: Historians Are Going To Be 'Amazed At The Naivete And Lack Of Knowledge Of The Obama Administration'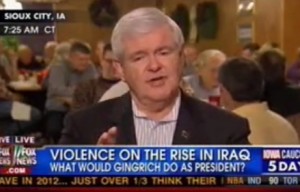 Newt Gingrich was a guest on Fox and Friends for two segments Thursday morning, live from a diner in Sioux City, Iowa, and while the first half of the interview tended to be more jokey and banal, he managed to take some pointed shots at President Obama and his administration over their handling of foreign affairs when he returned after the commercial break.
The first part of Gingrich's appearance touched on his visit to a chocolate factory on Wednesday (an apparent nod to Mitt Romney's Lucille Ball reference). Gingrich then interrupted the interview to wish everyone a Happy New Year, at which point the World's Greatest Segue, courtesy of guest host Clayton Morris, was introduced:
"Maybe getting on the Virginia ballot might be part of your New Year's resolution?"
"I don't know what will happen on that front," Gingrich replied, noting that Rick Perry was heading a lawsuit and other candidates were also left off the ballot. "I'm not a lawyer, I'm a historian."
In his second segment, Gingrich tapped into that background as a historian and laid in to President Obama. Speaking on the situations in Iran and the challenge of radical Islamists, Gingrich said he would replace the regime in Iran by aping a strategy employed by Ronald Reagan, Margaret Thatcher, and Pope John Paul II in the 1980s — one that isn't military-based, but, rather, one that is "primarily psychological, political, economic and go right at the regime to make clear to everybody that we want to replace the regime." Overwhelmingly, Gingrich added, people under 40 in Iran, "hate" the regime.
He then addressed the situation in Iraq, and the gloves came off:
"Historians are going to look back and they're going to be amazed at the naivete and the lack of knowledge of the Obama Administration."
Watch the clip of the second half of Gingrich's interview below, courtesy of Fox News:
Have a tip we should know? tips@mediaite.com