Newt Gingrich: I Am 'Disappointed' And 'Saddened' By John McCain 'Lecturing The Next Generation'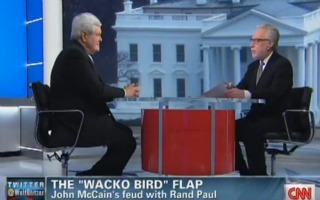 Former House Speaker Newt Gingrich tore into Sen. John McCain (R-AZ) on Friday in a wide-ranging interview with CNN anchor Wolf Blitzer. Gingrich said he was "disappointed" by McCain's decision to "lecture" Sen. Rand Paul (R-KY) and those senators who joined him in his Wednesday filibuster. "I don't know what's happened to John McCain, but I find this very sad," Gingrich said.

RELATED: Rand Paul: 'I Treat Sen. McCain With Respect. I Don't Think I Always Get The Same In Return'
"So, who are you with?" Blitzer asked Gingrich pointedly regarding the feud between the Senate GOP's younger and older members over the Obama administration's drone warfare program. "The McCains or the Rand Pauls?"
"Well, I'm really disappointed in John McCain, and I'm very saddened by it," Gingrich replied. "McCain, in his younger years, was a great maverick. He took on his party all the time."
The idea that he's now lecturing the next generation because they have the guts to stand up, which is I — I would have thought John McCain we do have applauded them and he would have said, I may not agree with you in detail, but I'm proud of the fact that you're standing up for your beliefs, you're fighting.
Gingrich added that Paul was correct to question the Department of Justice's presumed legal authority to execute and American citizen on U.S. soil without due process via a drone strike.
"I mean, if our Constitution means anything, it means that your government can't capriciously kill you without the rule of law," Gingrich asserted. "And it was very clear from the attorney general's earlier letters that they were reserving the right — remember, we're not talking about a combatant engaged in fighting against the US. The minute you do that, you lose all your rights."
Watch the clip below via CNN:
> >Follow Noah Rothman (@NoahCRothman) on Twitter
Have a tip we should know? tips@mediaite.com