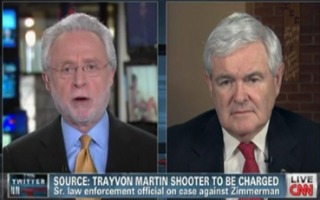 Former House Speaker Newt Gingrich appeared on CNN's The Situation Room with Wolf Blitzer on Wednesday where he said he believed it was "very dangerous" for the president and the attorney general to weigh in on a pending legal case like the Trayvon Martin shooting.
RELATED: Newt Gingrich Has 'Survived The Santorum Surge,' Notes Reporter
Blitzer asked Gingrich his thoughts on what President Obama said on the case, telling the press that if he had a son he would look like Trayvon Martin. "What was wrong with what the president said," Blitzer asked Gingrich.
"My only point was we ought to have equal empathy for every American that gets killed," Gingrich replied. "This particular case has become sort of a national case where the national media can talk about it, but there are tragic cases around the country involving Americans of every ethnic background and of every age and they deserve some real concern too and some real effort to understand what happened to them and why."
Blitzer pivoted to the political implications surrounding the Trayvon Martin case and Gingrich's opinion of how the president and his political appointees have comported himself when speaking out about this pending criminal case. "Is it appropriate, in your opinion, for a president – and today the Attorney General Eric Holder spoke out about this case as well. Is that appropriate," asked Blitzer.
"I think that's very dangerous," said Gingrich. "I don't know that they have any more information than you and I do, and I don't know that they are in any better position to render judgment. I think you would hope that the Attorney General of the United States would be in favor of the system of justice. And you would hope that a Harvard graduate would be in favor of the system of justice."
Gingrich went on to praise the justice system in Florida and the prosecutor, Angela Cory, who he called a "very serious person." "I'm not a lawyer. She's handled 50 homicides. I'm inclined to rely on her judgment unless there's some overwhelming reason by some other expert to second guess her. And since I'm not an expert, I'm not going to second guess her."
Watch the segment below via CNN:
Have a tip we should know? tips@mediaite.com