Newt Gingrich On Today: 'I'm Not Going To Say Anything Negative About Marianne'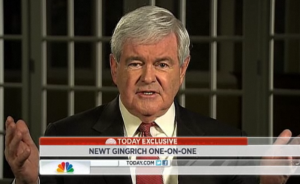 On the heels of last night's news that his ex-wife Marianne would be sitting down for a revealing (and damning) interview about him, GOP presidential hopeful Newt Gingrich spoke with Today co-host Ann Curry Thursday morning.
Curry kicked things off by asking Gingrich about news that it was actually Rick Santorum, and not Mitt Romney, who won the Iowa primary. Doesn't this make Santorum, and not Gingrich, the obvious alternative to front-runner Romney? Well, recent polling shows, "I'm clearly within five points now of beating Romney," or, as of last night, beating Romney by two points, said Gingrich, calling himself the only effective conservative vote.
Gingrich also said, although he ran a "positive campaign" in Iowa, he soon discovered that he'd have to match Romney's "willingness to be very, very clear." He also denied playing "the race card," so to speak, in South Carolina in order to win more votes.
RELATED: Drudge Gets Exclusive, But When Will ABC Air Interview With Marianne Gingrich?
He then addressed his former wife's upcoming interview:
Look, I'm not going to say anything negative about Marianne. My two daughters, Cathy and Jackie, have sent a letter to the president of ABC News saying, from a family perspective, they think this is totally wrong. They think ABC should not air anything like this, and that intruding into family things that are a decade, more than a decade old, are simply wrong. Now, I'll let my daughters speak for it; I'm sure they'd be glad to come on and chat with you about it. I'm not going to comment beyond that because I'm focused on the big issues that concern the American people, which are the current challenges we have, largely because of the failure of the Obama presidency.
Have a look, courtesy of NBC:
Have a tip we should know? tips@mediaite.com