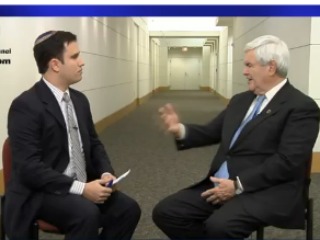 Former house speaker and GOP presidential hopeful Newt Gingrich sat down with The Jewish Channel's Steven Weiss to share some thoughts on Palestine's bid for statehood. Those thoughts were, essentially: "Hahahaha. Yeeeaaah right."
RELATED: Jon Stewart: What Candidate Won The 'Tuches Kiss-Off' At The GOP Jewish Forum?
When asked whether he considers himself a Zionist when it comes to Israel, Gingrich responded that "I believe that the Jewish people have the right to have a state," adding that "we have an invented Palestinian people, who are in fact Arabs, and were historically part of the Arab community" and who have "sustained this war against Israel."
Politico points to a shift in Gingrich's take on the matter, and what it means for the GOP and Israel:
Gingrich's comments […] edge him and his party further away from the two-state solution embraced over the last decade by presidents of both parties, and are the latest in a series of comments from Republican leaders that will set a sharply confrontational tone toward the Arab world if a Republican is elected next year.

Gingrich has suggested in the past that he could support a Palestinian state in theory but that he has deep doubts about current Palestinian leadership and worries about Israeli security, but his comments casting doubt on the legitimacy of the Palestinian national movement align him with more conservative voices who believe Israel has a permanent right to the West Bank territories.
Have a look at the clip, below, from The Jewish Channel:
h/t TJC Newsdesk, via Politico
Have a tip we should know? tips@mediaite.com