Newt Gingrich Responds To New Herman Cain Affair Report: 'Sad To See That Level Of Pain'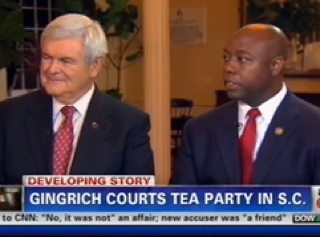 Republican frontrunner Newt Gingrich has an extensive resume, outperforms most of his peers in debates, and has a solid conservative record. But his one weakness among social conservatives– his checkered personal past–has now taken a backseat to the potential personal failings of his rival Herman Cain, who faces yet another accusation of sexual misconduct from Georgia businesswoman Ginger White. Gingrich appeared on tonight's John King USA for a campaign update, and responded to the new allegations.
RELATED: Herman Cain Breaks News Of His Own New Accusation Live On CNN
Gingrich, along with host John King and supporter Rep. Tim Scott, was in South Carolina working on his campaign, and went on to discuss his policy positions and where he sees his campaign in the future. But before that, King noted the new allegation that Cain had maintained a 13-year affair with White, and asked Gingrich whether he believed the issue was a "relevant issue, or not a relevant issue?"
"It is something that Mr. Cain will have to settle with the country and talk to the country about," Gingrich replied. "It is sad to see that level of pain brought out, but I think he'll have to deal with it." Gingrich otherwise remained mum on the subject, one with which he has experience in the political arena. Rep. Scott added that he did believe the Cain campaign had a serious hurdle to jump, and that "the challenges are real."
RELATED: Meet Ginger White, The Latest Problem For Herman Cain
Many are predicting that a stumble by Cain would help Gingrich solidify his frontrunner status, but given the nature of this fumble (as opposed to, say, his Libya gaffe or anything that could come up during a debate), it isn't a guaranteed zero-sum victory for Gingrich.
The segment via CNN below:

Have a tip we should know? tips@mediaite.com