Newt Gingrich Says He Won't Sing To Americans Because 'Obama's Already Punished Them Enough'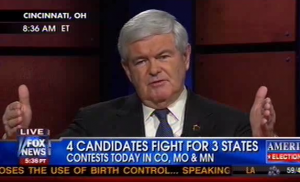 GOP hopeful Newt Gingrich, campaigning in Ohio, was a guest on Fox & Friends Tuesday morning, and hit on topics ranging from his disdain for attack ads to a possible rise in the polls for Rick Santoum. Host Steve Doocy, however, started the segment off by asking if Gingrich would ever follow in the footsteps of Mitt Romney and belt out a pro-America tune anytime soon.
"I don't want to punish the people of the United States. Obama's already punished them enough," Gingrich said. "Why would I want to sing to them?"
A candid Gingrich then assessed his possible finish in tonight's contests, guessing that he'll finish "in the middle" of the pack. "But," he said, "I think it will be a good day for Santorum and a relatively bad day for Romney." Gingrich pointed out that, in Colorado, Romney is polling 20 points lower than where he was in 2008, and is "similarly down in Minnesota." Gingrich added that Santorum's surge is partially due to Romney's negative advertising having "both damaged me and damaged him," saying Santorum had a "free run" and kept things positive.
Later in the interview, Doocy brought up a quote from a Gingrich strategist, saying they wanted more debates between now and March 1 (as of now, there is just one scheduled for later this month).
"I'm always happy to debate. I think on balance it's a great way to talk straight to the American people without editing and without being trapped up into sound bites. But I'm also happy to do what you and I are doing here today, Steve."
Watch a clip of the interview below, courtesy of Fox News:
Have a tip we should know? tips@mediaite.com