Gingrich Shares The Secret Of Chris Matthews' Success: 'He's Slightly Wacked'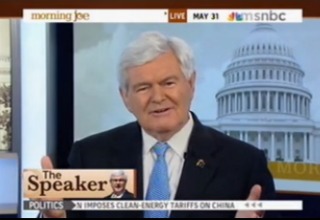 Former GOP presidential hopeful Newt Gingrich appeared on Fox & Friends Thursday morning to advocate for Republican nominee Mitt Romney, discuss the GOP's strategy as this election year marches on… and, of course, to address his recent, animal-laden interview with MSNBC primetime host Chris Matthews.
RELATED: Newt Gingrich and Chris Matthews Square Off In Live MSNBC Interview
The interview kicked off with a clip from Gingrich's recent Hardball appearance, where Matthews had asked him all about his favorite animals.
"So I guess the question of the hour, Willie Geist," said host Joe Scarborough, "has to be: There is a snake that goes 35 miles an hour?" He then turned things over to Gingrich, asking "So what were you thinking as Chris Matthews came at you 35 miles an hour with all of these questions about reptiles when you were going on there to talk politics?"
Gingrich gave a rather thorough answer:
You know, part of the reason that Chris keeps that show is that he's slightly wacked, and you never quite know where you're going. Just watch the way he opens the show. You know, "it's Hardball," and he's off and running. So, my experience being with Chris has been that if you just relax and stay a half step ahead of him, you can survive the performance, and, you know, get back another day. Before the show, we went into his office and were looking at great pictures he's taken in Africa over the years. He first went there, I think, as a peace corps volunteer. So he has a really genuine interest in animals, although I would not have identified him — as much as I'm a critic, I would not have identified him as a black mamba.
Scarborough then asked Gingrich his thoughts on whether voters will actually respond to the Obama campaign's attacks on Romney's time at Bain. "You know," Gingrich responded, "I actually think, ironically, this will be a big vote loser for the President, because it gets him right in the middle of a job-creating economic fight." He thought the President would do better to "campaign on as many distractions as possible and hope people don't quite get back around to the economy."
Frequent Morning Joe panelist Donny Deutsch then posed a question to Gingrich about his past animosity towards Romney, prefacing the question by noting that "I probably disagree with everything you stand for politically, but I respect your passion and conviction."
"Well, you know, we had a very tough primary season," Gingrich acknowledged. "I threw the kitchen sink at him, he threw a bigger kitchen sink at me. It wasn't fun. And some of it was personal, there's no question about it. But Barack Obama makes this really easy. If you ask me on behalf of my grandchildren who are 10 and 12 what do I think should happen this November, I believe so deeply that Mitt Romney should be elected and that Barack Obama's second term would be a disaster for the country that it's very easy for me to stump for the governor and advocate for the Governor because I do honestly believe that a second Obama term will be a genuine disaster for the United States."
In a primary setting, he continued quite candidly, Romney wouldn't have been his first choice. But, that said, "he is the Republican party nominee," and Gingrich will support the party's choice.
Scarborough then shared his thoughts that, were it not to "third party attacks" against Gingrich, there's an excellent chance he'd be the GOP nominee instead of Romney.
Gingrich thought Super PACs are definitely casting a negative light on the primary process. "You watch this fall," he said. "Between the Obama Super PACs and the Romney super pacs, the conservative Super Pacs, the liberal Super PACs, it's going to be a mess and people are going to be sick of it"
"It's not," he concluded, "the way a great nation should govern itself."
Check it out, via MSNBC:
Have a tip we should know? tips@mediaite.com