Newt Gingrich Slams 'One-Sidedness' Of Gay Rights, Citing Services From Which Catholics Are 'Outlawed'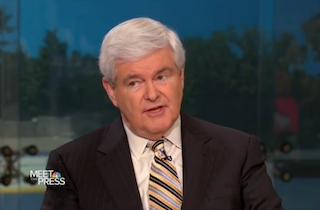 In light of NBA player Jason Collins coming out as gay, David Gregory invited a Meet the Press panel to discuss the gay rights movement. Newt Gingrich was among the panelists — and chose to highlight the "one-sidedness" of the gay rights debate, pointing to the way Catholics are "outlawed" from having adoption services.
The "LGBT community has shown the power of the grassroots to be that additional component to political organizing," Joy-Ann Reid argued. "You've seen the grassroots actually move the debate forward and move society forward."
From there, Gregory turned to Gingrich, asking him whether a Republican presidential nominee can support gay marriage. "I doubt it," Gingrich replied.
"But what I'm struck with is the one-sidedness of the desire for rights," he added. "There are no rights for Catholics to have adoption services in Massachusetts. They're outlawed. There are no rights in DC for Catholics to have adoption service. They're outlawed."
"This passing reference to religion, we sort of respect religion — sure, as long as you don't practice it," Gingrich continued, saying we should go beyond the question of "Are you able to be gay in America?" and ask what it means. Whether that means, for example, eliminating "any institution which does not automatically accept that, and therefore, you're now going to have a secular state, say, to a wide range of religious groups."
Gregory asked Gingrich for specifics in terms of what's outlawed. He replied that it's "impossible for the Catholic Church to have an adoption service in Massachusetts that follows Catholic doctrine." To that point, Reid countered that Catholic Church withdrew, not that they're prohibited. Gingrich argued that withdrew because they were told they couldn't follow Catholic doctrine.
"If you're running a pharmacy that the public is allowed to use," Reid hypothesized, it's the same issue if you had a religious objection to interracial — to people eating in your restaurant, let's say. Let's say it's my religious objection to have black people—"
Rich Lowry then jumped in to question whether the Catholic Church's objection to contraception is on the same moral level as racial discrimination. "I'm not putting this on a moral level," she replied. "I'm saying that would you have the right to discriminate based on your religious beliefs?"
Take a look, via NBC:

Have a tip we should know? tips@mediaite.com