Newt Gingrich Suggests He Did Poorly In Florida Debates Because He Was 'Amazed' By Romney's Lies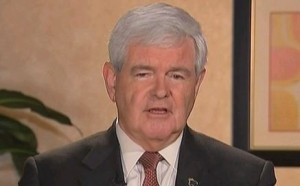 On This Week today, Newt Gingrich owned up to his poor debate performances last week, but implied that the reason he was not as effective in conveying his message was because he was so distracted by how much Mitt Romney was lying on the debate stage. Substitute host Jake Tapper asked Gingrich if his pledge to go all the way to the convention would still stand even if the math doesn't work out in his favor during the long primary season.
RELATED: Romney Trashes Gingrich's Debate Performances: 'It's Very Easy To Talk Down To A Moderator'
The candidate argued Romney doesn't have the kind of majority support he needs at this point to secure the nomination, so there is a very real chance the GOP could face a brokered convention and Gingrich could swoop in and claim the nomination. Gingrich touted endorsements from former rivals Rick Perry, Herman Cain, and 2008 Republican candidate Fred Thompson, as well as the many positive comments being sent his way by Sarah Palin.
Gingrich said that "the fewer conservatives there are, the better we're doing," a subtle suggestion that Gingrich would easily be able to claim the nomination if Rick Santorum dropped out and endorsed him. He disputed the notion that "Mitt Romney's liberalism" would make any significant advancement in the contemporary Republican party.
Tapper noted that both of Gingrich's surges in the polls were thanks to his powerful debate performances, and asked him what happened during both debates last week, where many analysts thought Romney came out much stronger and helped himself get back into the lead in Florida. Gingrich conceded he did not do his best at the debates, but had an explanation all ready.
"I was amazed. I'm standing next to a guy who has the most blatantly dishonest answers I can remember in any presidential race in my lifetime… I don't know how you can debate someone with civility if they're prepared to say things that are factually false."
RELATED: Chris Wallace: Number Of GOP Debates Is 'Ridiculous' And 'Insane': 'They're All Stupid'
Watch the video below, courtesy of ABC:
Have a tip we should know? tips@mediaite.com
Josh Feldman - Senior Editor