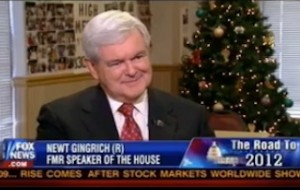 There is a fine line between self-confidence and hubris, which is fairly evident in the following clip from last night's episode of Hannity. Newly annointed GOP presidential frontrunner Newt Gingrich sat down for a lengthy interview with host Sean Hannity and bloviated about all things Newt, and his seemingly Newtastic presidential campaign. When asked if he still saw the GOP primary race as "Mitt vs not-Mitt," as he had previously proclaimed, Gingrich corrected himself by suggesting that it may very well turn out to be "Newt and not-Newt" vying for the nod.
In discerning the difference between confidence and hubris, there is a reliable litmus test on the rhetorical flourish in question, and that is this: did the speaker refer to himself in the third person? Let's take a look at the transcript and see what Gingrich said:
A month ago I didn't think we would get here for another 60 days. But it's clear the country is talking to us. And it's clear that across the country people are saying, you know, 'I think we need Newt Gingrich because we need somebody who can debate Obama, we need somebody who has actually done it before. We need somebody with very substantial big ideas. So I think whereas I would have thought originally it was going to be Mitt and not-Mitt, it may turn out to be Newt and not-Newt and that's a very different formula. We're having to re design our campaign strategy bus we are ahead of where I thought we would be.
Ding ding ding! Looks like this might be a case of early-onset hubris that comes with moving up to the top of the polls. And if we've learned anything in the GOP primary thus far, its that once you get to the top of the polls…wait, I don't want to spoil it for anyone. And in Gingrich's defense, he may have referred to himself in the third person, but at least he hasn't called himself "The Newt." Yet.
Watch the clip below, courtesy of Fox News:
Have a tip we should know? tips@mediaite.com
Colby Hall - Founding Editor