Newt Gingrich To Chris Wallace: Mitt Romney Is The Weakest Frontrunner We've Had Since 1920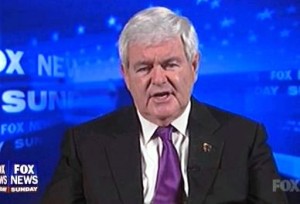 On Fox News Sunday today, Chris Wallace challenged Newt Gingrich on the chances of him taking the Republican nomination in the fall, stating that the math is such that Gingrich needs an overwhelming margin of all the outstanding delegates if he has any hope of getting it. Gingrich shot back by saying that he still has a good chance because Romney has not proven himself as a strong enough candidate over the course of the campaign, calling him the "weakest Republican frontrunner" in almost a century.
RELATED: Stephanopoulos To Gingrich: 'Really No Way For You To Get Enough Delegates Before The Convention'
Wallace asked Gingrich if he could successfully fend off a Romney nomination, especially if he doesn't win both Mississippi and Alabama in upcoming primaries. Gingrich said while Romney has tried to make himself out to be the strong, inevitable nominee, he has not campaigned as such.
"Romney's probably the weakest Republican frontrunner since Leonard Wood in 1920, and Wood ultimately lost on… the tenth ballot. Romney has a challenge. He wins a state, for example, he wins Ohio. He wins 38 percent of the vote. Places where nobody else can compete because of money, Guam, for example, he does fine… Yes, he's the frontrunner. He's not a very strong frontrunner. Almost all conservatives are opposed to him, which is the base of the party. And I think we are as likely to see after the last primary in June, we're as likely to see a 60-day conversation about what's going to happen as we are going to see Romney dominating."
Since none of us are historians, here's some quick information about Leonard Wood from his Wikipedia page:
Wood was an unsuccessful candidate for the Republican presidential nomination in the election of 1920… He won the New Hampshire primary that year, but lost at the convention. Among the reasons why he did not become the candidate were rivals for the nomination, his obvious political inexperience, and the strong support he gave for the anti-Communist strategy of Democratic Attorney General A. Mitchell Palmer to defeat radical subversion.
Anyway. Gingrich continued to frame himself as a man of big ideas, and implicitly drew another contrast between himself and Romney by saying that "95 percent" of his donors are small donors giving under 250 dollars, and insisted he would be supporting their views and promoting a more positive view of conservatism than his rivals.
RELATED: The Five Predicts: If Gingrich Loses, He'll Be 'Like Carrie At The Prom'
Watch the video below, courtesy of Fox:
Have a tip we should know? [email protected]
---
Josh Feldman - Senior Editor