Gingrich To Wolf Blitzer On A Paul/Obama General Election: 'A Very Hard Choice'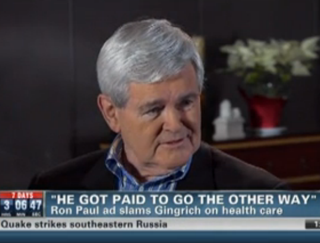 It isn't any news that Newt Gingrich isn't a particular fan of his biggest threat in the 2012 race thus far, Rep. Ron Paul. What may be news, however, is that Rep. Paul may overtake President Barack Obama in antipathy Gingrich harbors for him, as he told Wolf Blitzer on CNN today that he could never vote for Rep. Paul, and that, between Rep. Paul and President Obama, he would have a "very hard choice" to make.
RELATED: Hey, CNN? Can We Talk About What's Going On Between You And Ron Paul?
Blitzer switched the topic over to Rep. Paul, which gave Gingrich an opening to bring up the newsletters, arguing that he found it impossible that Rep. Paul would have "no idea what he was making money on, had no idea that it was racist, anti-semitic." "There will come a moment where people won't take him as a serious person," he noted, giving him one compliment: that he "happened to have a good cause" in the fight against the Federal Reserve.
Blitzer asked him directly whether he could vote for him, and received a resounding "no." When Blitzer changed the model to one in which the only choices available would either be Rep. Paul or President Obama. Gingrich paused and replied, "I think you'd have a very hard choice," detailing his problems with both candidates, and concluding it would be a "very bad choice for America." So does this mean Gingrich would run a third party campaign against Republican Nominee Paul? Gingrich refused to answer, because "it's not going to happen."
The exchange via CNN below:

Have a tip we should know? tips@mediaite.com