Newt Gingrich Trashes Obama's 'Historically Wrong,' 'Dangerously Misleading' Inaugural Reference To Iran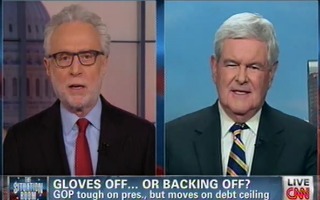 While President Barack Obama's speech at his second inauguration on Monday was generally well received, some Republicans have attacked the president for his dismissive approach to the threat posed by a rapidly nuclearizing Iran. Some conservatives have accused the president of downplaying the historic role war fighting has played in securing a lasting peace between adversaries. On CNN on Tuesday, former House Speaker Newt Gingrich echoed this charge. He said that the portion of Obama's speech in which he addressed Iran was "historically wrong" and "dangerously misleading."

RELATED: President Obama To AIPAC On Iran Nuke Threat: 'I Will Not Hesitate To Use Force'
On Monday, The Weekly Standard editor Bill Kristol expressed deep reservations about the way the president indicated he would approach negotiations with Iran to avoid a strike on their nuclear facilities. Specifically, Kristol took issue with one sentence in which Obama claimed that Americans were "heirs to those who won the peace and not just the war, who turned sworn enemies into the surest of friends, and we must carry those lessons into this time as well."
[T]hink about the formulation—"and not just." Surely President Obama should have said this: "we are also heirs to those who won the peace as well as the war…" But he didn't say that. The formulation Obama chose—"and not just the war"—suggests that Obama believes that it's no big deal to win a war, and the greater achievement is winning the peace. With respect to World War II, this view is ludicrous. With respect to today's world, this view is dangerous.
In an interview with CNN anchor Wolf Blitzer, Gingrich said that Obama' speech presented Republicans with a number of political opportunities to position themselves as the party more in tune with the desires of most American voters – particularly on gun control.
He then turned to the sentence which most disturbed Kristol. Gingrich said he agreed with Kristol's assessment and charged Obama with misleading the American people about the nature of the challenge Iran poses.
"If he had any one place – and here I agree with Bill Kristol – that we should worry about, it was his statement about war and peace," Gingrich said. "It was both historically wrong and dangerously misleading for the American people."
Watch the clip below via CNN:
> >Follow Noah Rothman (@NoahCRothman) on Twitter
Have a tip we should know? tips@mediaite.com