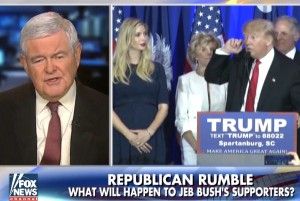 Former Speaker of the House Newt Gingrich blamed the trio of Fox & Friends hosts for their role in having "invented" the seemingly unstoppable GOP gatecrasher Donald Trump, currently wreaking havoc and raking in delegates in the Republican primary, much to consternation of establishment totems like himself.
In an interview Monday morning the neocon luminary told host Brian Kilmeade that Trump's success was "because of you guys." He elaborated:
Donald Trump gets up in the morning, tweets to the entire planet at no cost, picks up the phone, calls you, has a great conversation for about eight minutes, which would have cost him a ton in commercial money, and meanwhile his opponents are all out there trying to raise the money to run an ad. Nobody believes the ad.
It seems odd to blame Fox for the fact that voters are connecting more with an unfiltered Trump than with any highly-scripted, tightly-produced ad campaign — even Gingrich conceded that Trump's appeal lay in the fact that voters found him to be "real" — but it cannot be denied that Trump's tempestuous, confrontational style has garnered him mountains of free media publicity.
But even before the election cycle began, Fox & Friends were working hard to boost the mogul's visibility. Trump began making weekly call-in appearances on Fox & Friends in 2011. Although Fox suspended the Monday morning segment last June when the mogul officially launched his campaign, in his capacity as a guest he has still made regular calls on the show over the course of the last year.
"People make decisions. Newt, people make decisions," Kilmeade replied. "Mitt Romney made a decision for three months he wouldn't do us at all. I mean, people decide — for a while Jeb Bush wouldn't hop on any television at all. Hillary Clinton didn't do anything in the beginning. Donald Trump from day one made himself available to big and small, and it paid off.
"Look, you could say that Trump is the candidate Fox & Friends invented. He was on your show I think more than any other show," Gingrich said.
"Every Monday," said Steve Doocy.
"It's was always a happy, positive conversation," Gingrich observed.
Check out the video above, via Fox News.
[h/t Daily Beast]
[image via screengrab]
Have a tip we should know? tips@mediaite.com