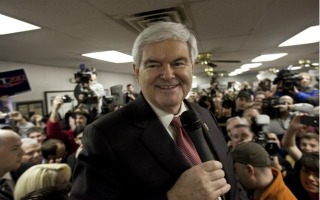 Former House Speaker Newt Gingrich's presidential campaign is winding down to a close. Gingrich has said that he will be "reassessing" his presidential campaign depending on Tuesday's primary election results from Delaware – where the Gingrich campaign has rested all its hopes. In the likely event that the former House Speaker underperforms his expectations, his quixotic presidential campaign will soon come to a close. It is with the memory of Gingrich's thoroughly entertaining campaign in mind that Mediaite wanted to look back on his run for the White House.

Recall how the Gingrich campaign launched in May of 2011, only to collapse nearly instantly after he took an ill-advised Grecian cruise. He returned to a defecting staff which leaked to the press a thoroughly damaging credit account at Tiffany's Jewelers.
Many thought the campaign was over before it had really begun, but this was only the beginning. Gingrich's campaign against the media in the myriad Republican debates in 2012 won him the hearts of conservatives hungry for an alternative to former Massachusetts Gov. Mitt Romney as the nominee. But his new rise would be short lived, as he was soon reviled for his anti-capitalist attacks on Romney's tenure at Bain Capital ahead of the Iowa caucuses.
RELATED: Peggy Noonan Coins Funniest Newt Gingrich Nickname Yet: 'Angry Little Attack Muffin'
Several more combative debate performances would bolster Gingrich's campaign for a final time, and just in time to allow him to win the pivotal South Carolina primary. But this resurrection would prove to be even shorter lived than his previous bump in the polls. His media campaign descended into a circular firing squad. The Speaker who had once been the darling of conservatives had become a millstone around the party's collective neck.
The Gingrich campaign ended, not with a bang, but with a whimper.
Despite his regular attacks on the media, his was a particularly media-friendly campaign. Gingrich provided the 24-hour news cycle with endless sound bites – fodder for panel debates and intraparty feuds that the cable news media would endlessly devour. His loss is, really, all our loss.
Newt Gingrich – we will remember you.
Have a tip we should know? tips@mediaite.com