Newtown Mom Nicole Hockley Talks About Autistic Son's Empathy; His Laughter 'Was Like Music'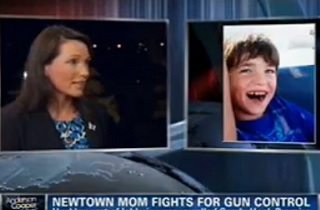 One of the many unfortunate consequences of the horrific slayings at Sandy Hook Elementary School has been an intermittent media campaign to spread cruel misinformation about people with Autism Spectrum Disorders. On Tuesday night's Anderson Cooper 360, Newtown mom Nicole Hockley, whose 6 year-old son Dylan Hockley was killed on that darkest of days, helped to undo some of that damage by talking to host Anderson Cooper about her slain son's autism, and the beautiful qualities he possessed, qualities which belie the stereotypes that have been spread by some in the media.
There has been a lot of bad reporting on the fact that the Newtown shooter allegedly had an Autism Spectrum Disorder called Asperger's Syndrome, but very little attention paid to the fact that two of his victims, Dylan Hockley and Josephine Gay, also had ASDs. Nicole Hockley mentioned it during the 60 Minutes interview with the Newtown families, and she mentioned it as a positive. "He was always smiling, and always laughing," she told interviewer Scott Pelley, "And he was very pure, possibly because of his age – he was six – and possibly because he was autistic."
On Tuesday night's AC360, Ms. Hockley spoke to Anderson Cooper about her current lobbying efforts, and briefly reacted to Sen. James Risch's (R-ID) lengthy remarks about background checks. One of the benefits of being so right is that there was plenty of time left over to talk about her son. She told Cooper that she wasn't sure why background check legislation "inconveniences law-abiding gun buyers, if there are already background checks in place for law-abiding gun buyers to ensure that it doesn't get into the wrong hands. Why shouldn't that be the same for all gun sales and gun purchases? It shouldn't be for some and not all."
In response to the NRA talking point that we should enforce existing laws, Hockley said "Certainly, enforcing the existing laws is always an important thing to do. But expanding it to cover all gun sales, that just makes common sense to me. I see no reason to do it for some but not for all."
She also talked about the experience of lobbying for gun reforms on Capitol Hill. "Today was a good day but a very hard day," Ms. Hockley said. "Truly, I would much rather be at home with both my children, if I could. I would rather not be doing any of this. But I feel absolutely compelled to do it on behalf of my son Dylan, and be his voice, and the voice of all the others who died, and help prevent deaths in the future and save lives."
Cooper asked Nicole what Dylan was like, and her response was vivid, poetic, and beautiful. "Dylan was — he was a great little boy," she said. "He was always smiling, always laughing. If he laughed, other people laughed with him. He loved to be tickled, so people would come up to him and just start tickling him, just to hear him laugh. It was like music."
"He loved looking at the moon at night," Nicole continued, "and he ate spaghetti with his fingers. He was a very loving and empathetic little boy. He was autistic, and so had some learning difficulties and some social interaction difficulties, but he was a joy in our family, and I miss him terribly."
Dylan's parents have established Dylan's Wings of Change, a charitable project "dedicated to provide support for children with autism and other special needs, committed to positive change for the future."
Josephine Gay's family has set up "Joey's Fund" through the Doug Flutie, Jr. Foundation for Autism, to help families raising autistic children.
Here's Nicole Hockley's interview, from CNN's AC360:
Follow Tommy Christopher (@TommyXtopher) on Twitter
.
Have a tip we should know? tips@mediaite.com