Newtown Victim's Sister Fires Back At Pro-Gun Senators: 'We're Not Props… We're Not Going Away'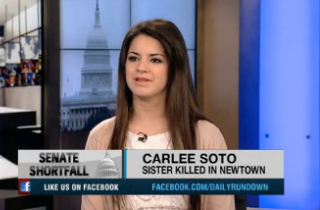 Carlee Soto, sister of Victoria Soto, a teacher killed in the Newtown massacre, appeared Thursday morning on MSNBC's Daily Rundown with Chuck Todd and excoriated the senators who voted against the gun control bill.
"You tell your story," Soto said, "you tell how your loved one died, and they just look at you with this blank look. There's no compassion in their eyes, they don't really care, they're going to vote no anyway."
Soto had been part of the concerted effort of Newtown families to lobby senators in support of the bill, a team that also included Gabrielle Giffords. Their campaign fell short when every measure of the gun control legislation failed to clear the Senate's 60-vote hurdle on Wednesday.
"We knew before going into the vote, before going into the gallery, that we weren't going to get the sixty votes that we needed," Soto told Todd. "It was heartbreaking to see our senators go, 'Your loved ones died, oh well.'"
Soto displayed particular disdain for Senator Rand Paul, who had accused Barack Obama of using the Newtown families as props in the gun control debate.
"We're not props," Soto said, with a significant dose of disgust in her voice. "[Obama] is standing with us, helping us fight our fight for our loved ones, and if you think that, then you're just absurd. That's an awful thing to think."
Soto promised that the effort to pass gun control reforms was not over. "The feeling that me and my family and everyone else that has lost someone to gun violence is a horrible feeling," she said, "and we don't want anyone else to have to feel this pain that we have to feel."
"We're not going away. We will keep fighting until something happens, until changed is made."
Todd closed by praising Soto's resilience in the wake of her sister's death. "I don't know how you guys do it," he said, "throwing yourself in the middle just months after mourning the loss of your sister. I am impressed with your bravery."
Watch the full video here:
— —
>> Follow Evan McMurry (@evanmcmurry) on Twitter
Have a tip we should know? tips@mediaite.com