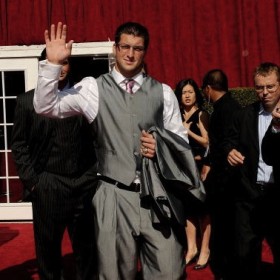 The NFL Draft airs tonight on ESPN, and for the first time the opening round will be shown in prime time. As a part of their draft coverage, Sports Business Daily has a roundup of writers who think it will pull in some monster ratings.
Although many of these writers are operating on the premise that what they're saying is some sort of earth-shattering prediction, it's not. The NFL Draft will have huge ratings. It's the NFL.
The timing of the event is a testament to the league's dominance. Both the NBA and NHL have actual playoff games tonight, but that won't matter, because more people will watch commissioner Roger Goodell read names off a list than actual games.
While the new schedule is a big change, it isn't the only thing that will be different about this year's draft:
Charles Coplin, the NFL programming vice president overseeing the show at Manhattan's Radio City Music Hall, Tuesday said [Whoopi] Goldberg and actors Alyssa Milano, Josh Charles and Dan Lauria as well as weight loss guru Jillian Michaels will be working the draft's first-ever red carpet for entrances shown live Thursday on ESPN and NFL Network (6 p.m. ET).
Red carpet, baby! But wait… Whoopi Goldberg? It may end up being worth it, if only for the fact that it's fun to imagine the ESPN production meeting that ended with, "By god..get me Whoopi Goldberg."
Meanwhile, the burning question for the draft itself is: Where does Tim Tebow end up? After going up and down on numerous draft boards, the only thing that is assured is that whoever gets him is not only drafting Tebow, but the massive amount of media attention that comes with him.
Have a tip we should know? tips@mediaite.com