NFL Network Anchor Wishes You'd Pay Attention to This ESPN Reporter Instead of Britt McHenry
NFL Anchor: Pay Attention to This ESPN Reporter Instead of Britt McHenry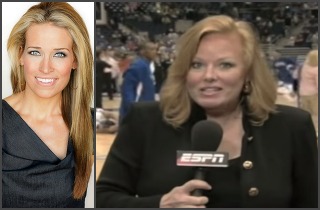 After footage of her profane rant at a towing lot attendant catapulted 28-year-old ESPN reporter Britt McHenry into the national spotlight last week — some say for all the wrong reasons — one fellow sportscaster has called upon the American public to pay attention to another ESPN reporter who is more newsworthy.
In a Monday blog post, NFL Network reporter Alex Flanagan stated that she does not wish McHenry "any ill will," but rather, "My 'mother of two daughters voice' hopes she'll learn that while she was hired, maybe in part, because she's in shape, has nice teeth and is well educated, those things don't make her a better person…neither does having a job on TV."
However, Flanagan bemoaned how the surveillance footage of McHenry's insults will only increase her visibility in a crowded business full of eager reporters. "I think that's unfair," she wrote. "There are so many hard-working women in my line of work deserving of that kind of airtime who likely will never get it because they won't have their own bad girl scandal."
Flanagan's example of a female sports reporter who doesn't get the attention she deserves: long-time ESPN reporter Shelley Smith.
"Like Britt, Shelley got into a nasty fight with an enemy," Flanagan explained. "But you might not have heard about it. Shelly is battling breast cancer. She recently finished chemotherapy and before she starts a series of 25 radiation treatments in May, she'll report for ESPN during the NFL Draft from Hawaii on quarterback Marcus Mariota."
She continued:
I've never heard words like "diva" or "entitled" associated with Shelly's name. She's respected for being an excellent writer, a hard worker, a great reporter and a good teammate. At 56 years old, and battling cancer, I would imagine being beautiful is the least of this baby girl's worries. Her hair doesn't look so good these days. Because of chemo, she doesn't have any. But instead of being angry and irate, she's treated her enemy with grace and poise and has become an inspiration for others on how to behave when you have been totally screwed for no good reason at all. I would absolutely have her back if after a bad day she wanted to "go off" and give cancer a piece of her mind. But I doubt she ever will. If you ask me, that's the kind of story and TV personality who deserves some air time.
Read the full post here.
And watch a quick report on Smith's return, below via SI.com:

— —
>> Follow Andrew Kirell (@AndrewKirell) on Twitter
Have a tip we should know? tips@mediaite.com