Niall Ferguson And Paul Krugman Trade Ad Hominem Attacks In Debate Over Ethics Of Ad Hominem Attacks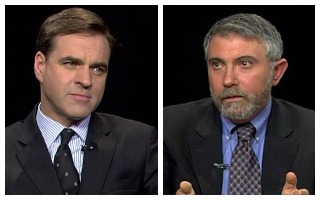 Author and columnist Niall Ferguson recently where attacked New York Times economist Paul Krugman for resorting to ad hominem attack when he debates people who disagree with him. Ferguson himself resorted to an ad hominem when he said that Krugman's debate style may be the result of "childhood trauma." Krugman responded to Ferguson's ad hominem, perhaps predictably, with a scathing attack on Ferguson's ability to perform in his position as an opinion leader.

RELATED: The Deficit Debate: Joe Scarborough And Paul Krugman Face Off, Get Heated On Charlie Rose
"In my view Paul Krugman has done fundamental damage to the quality of public discourse on economics," Ferguson wrote. "He can be forgiven for being wrong, as he frequently is –though he never admits it. He can be forgiven for relentlessly and monotonously politicizing every issue. What is unforgivable is the total absence of civility that characterizes his writing."
"His inability to debate a question without insulting his opponent suggests some kind of deep insecurity perhaps the result of a childhood trauma," Ferguson added. "It is a pity that a once talented scholar should demean himself in this way."
"What a pathetic response," Krugman replied pointedly in an email response to an inquiry by Business Insider.
Notice that he is doing precisely what I never do, and making it about the person as opposed to his ideas. All I have ever done to him is point out that he seems to not know what he is talking about, and that he has been repeatedly wrong. I would never stoop to speculating about his childhood! If he can't handle professional criticism — which is all that I have ever offered — he should go find another profession.
Not an ad hominem attack, per se, but neither is it a refutation of the point made by Ferguson. In fact, it buttresses his argument rather well.
Watch a recap of the battle below via Bloomberg:
h/t Business Insider
> >Follow Noah Rothman (@NoahCRothman) on Twitter
Have a tip we should know? tips@mediaite.com