Niall Ferguson Takes On Paul Krugman, Andrew Sullivan Who Called His Newsweek Story Inaccurate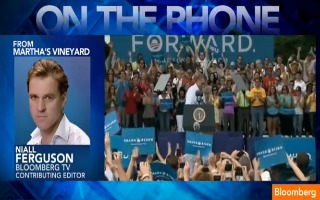 Niall Ferguson, Newsweek columnist and author of this week's controversial cover story in which he calls for voters to send Mitt Romney to the White House in November, has been under assault since his piece attacking President Barack Obama was published. On Tuesday, Ferguson appeared by phone on Bloomberg television to hit back against his critics.

RELATED: 'Hit The Road Barack': Newsweek's Niall Ferguson Details Many Reasons 'Why We Need A New President'
In the lengthy appearance on Bloomberg, Ferguson took on charges that his piece was marred by a series of inaccuracies. In the interview, he addressed claims that he misrepresented the costs of the Affordable Care Act, that he unnecessarily blames Obama for the sluggish economic recovery and why he thinks a Romney/Ryan administration would turn the economy around.
Ferguson was first asked if he was surprised by the outpouring of anger over his Newsweek piece from the left. He replied that he was not, "because the liberal blogosphere has a very tried and tested method of attacking an argument it disagrees with."
The first tactic is to ignore completely the arguments of the piece. The second is then to engage in nitpicking and claim to be fact checking when in fact all you're offering is a series of alternative opinions. And then you round it off by making hysterical calls for the office resignation. This is such a tried and tested method and I was fully expecting it. The usual suspects, led of course by Paul Krugman, have obliged. But they have not addressed any of the arguments I have made in the piece so I will dismiss them pretty briskly today.
Ferguson then respond to recent columns by both New York Times columnist Krugman and fellow Newsweek writer Andrew Sullivan which purport to fact check the claims he made in his Newsweek piece about the costs associated with Obama's health care reform law.
"The critics are the ones splitting hairs," said Fergsson when asked if it was fair to compare the net and gross costs associated with the ACA. "It absolutely clear what the CBO has said, which is the costs of the ACA will not be met by new sources of revenue. They will only be met, in full, if the cost of Medicare ceases to grow at around 4%. In fact, that rate of growth will have to be halved if that is to be the case."
"This is really quite unambiguous," Ferguson continued. "Krugman is being disingenuous. And sadly, my old friend Andrew Sullivan does not really understand the issue that well, which is clear from his recent post."
Watch the segment below via Bloomberg:
h/t Zero Hedge
> >Follow Noah Rothman (@Noah_C_Rothman) on Twitter
Have a tip we should know? tips@mediaite.com