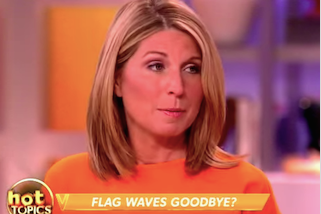 For the second consecutive day, the great debate over the Confederate flag raged on this morning. While Whoopi Goldberg compared the flag to the Nazi swastika on Monday, this time is was Rosie Perez's turn to denounce South Carolina for continuing to let it fly above the state Capitol building.
"I think it's really sad that it took nine beautiful lives to make people wake up," Perez said during a discussion about the flag. "That said, I'm glad that their eyes are finally open, because it is time."
"Unfortunately, there are some people who are not behind it," she continued, calling out Ted Cruz specifically.
Speaking to the Washington Post over the weekend, Cruz said he can "understand the passions that this debate evokes on both sides" and that the decision to take down the flag should be left to South Carolinians. "The last thing they need is people from outside the state coming in and dictating how they should resolve that issue," he added.
To Perez, this was an example of Cruz not wanting to "alienate certain voters." She quoted Sen. John McCain, who admitted after he lost the Republican nomination to George W. Bush in 2000 that he had been too afraid to speak up on this same issue.
"I feared that if I answered honestly, I could not win the South Carolina primary," McCain said at the time. "So I chose to compromise my principles. I broke my promise to always tell the truth."
"I wish the ones who were running for office now would admit the same," Perez said.
Going out on a limb, co-host Nicolle Wallace decided to "defend" Ted Cruz for using the "state issue" excuse. "It's not that Republicans — and there are only a couple of them at this point — who didn't call for the removal of the flag were for the flag, they thought it should be left up to the state," she said. "And in the end, it was the state that solved this problem."
"I don't think that the issue of civil rights is a state issue," Perez responded. "I think it's a nation's issue."
Governor Nikki Haley (R-SC) may have called for the removal of the flag, but it still needs a two-thirds vote in the state legislature in order to come down. Until that happens, it continues to fly atop the Capitol.
Watch video below, via ABC:
[Photo via screengrab]
— —
>> Follow Matt Wilstein (@TheMattWilstein) on Twitter
Have a tip we should know? tips@mediaite.com