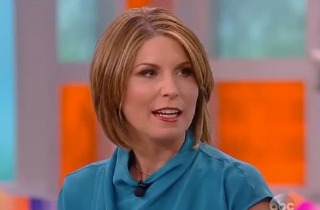 New York Times TV critic Alessandra Stanley perfectly captured Nicolle Wallace's debut as a new, official co-host of ABC's The View: "Ms. Wallace knows plenty and prefers to keep her feelings to herself," Stanley wrote in her writeup of the show's new season, which started Monday. "That's a good strategy for a political strategist, but it's not the strategy that made The View a hit."
The View is at its best when its at its extreme. Even if that means extremely goofy, as when former co-host Sherri Shepherd, dumbfounded, couldn't definitely state whether she thought the Earth was flat ("I've never thought about it…").
Or when the show's creator, 84-year-old Barbara Walters, giddily suggested (then denied) she uses sex toys.
At the very least, a reasonable viewer (admittedly, daytime TV watchers are not reasonable) would consider these moments remarkable, if not intellectually stimulating. But so far, Wallace hasn't proven to be present.
When Wallace served as guest host in the show's previous season, she stood by, barely peeping a word. Now she's locked in as a full-time co-host, a difference that should instill in her a new confidence, and yet she's the same tepid Wallace.
On Monday, Wallace — an accomplished woman who served in the Bush (43) administration and is one of few people directly responsible for Sarah Palin's role as the most powerful women in Republican politics (a whole movie was made about it) — came off like a party guest who only knows the friend who brought her along. She politely smiled and only spoke when spoken to.
What has made The View compelling television for 17 years is that the women who host the show are not afraid to talk or fight about what they know; and admit what they don't.
Rosie O'Donnell, back on the show after a seven-year hiatus, may hold unpopular 9/11 conspiracies dear to her heart but that never stopped her from shouting them out. Take it or leave it. (Though, we could do without O'Donnell's bare feet, which she rested on the sofa for the show's first episode.)
Shepherd didn't know if Jesus was a Christian; she also probably didn't know if he rode a pet dinosaur to work. And she wasn't afraid to say it.
Whoopi Goldberg, the only returning co-host of the show's newest season, once demonstrated how she can pee standing up. Would Wallace ever do something like that?
Viewers might not yet really know the other new addition to the show — actress Rosie Perez — but on her first day she teed up a perfectly fascinating question for Wallace: "When did you want to just pop [Palin]?"
Wallace laughed, nervously combed her left hand through her hair and gave a vague answer about how her and Palin's relationship "blew up" after the infamous Katie Couric interview.
Okay, but, Wallace, tell us about a time when you really looked at Palin and thought, "Wow, you're dumb as hell and I'd really like to strangle you." If that never happened, talk about why Perez should never have assumed you did.
That's what the rest of us want to know.
It's The View. As it stands, Wallace doesn't seem ready to share hers.
UPDATE — 11:38 a.m. ET: After this post published, a former runner-up to fill one of the empty seats on The View dropped me a line to say she finds Wallace "awkward" as a co-host and generally a "lump on a log."
[Photo via ABC/screen grab]
— —
>> Follow Eddie Scarry (@eScarry) on Twitter
Have a tip we should know? tips@mediaite.com