Nicolle Wallace: 'The Problem With Romney Is That We Have This Feeling He Doesn't See What We See'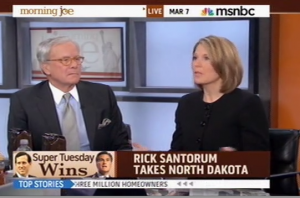 The Morning Joe crew discussed Mitt Romney's apparent disconnect on Wednesday morning, hitting on a series of perceived flaws as a candidate that have gotten in the way of him connecting with voters. This opened the door for a Chris Matthews rant on Romney, in which he hammered the right's current "faux" icons while urging the GOP hopeful to take stronger positions.
"When's this guy going to take on BiBi Netanyahu?" Matthews asked. "When's he going to take on Rush Limbaugh? When's he going to take on Donald Trump? This endless genuflection to these ridiculous faux icons of the right. All he has to do is show some guts." Matthews suggested that Romney should come out and take a swipe at Limbaugh for his recent "slut" comments, saying that it's not just Limbaugh's words, but his thought process. "If he'd just do that now," Matthews said, "it'd be so powerful."
Nicolle Wallace, a former advisor for George W. Bush and the McCain-Palin campaign, was on Wednesday's panel, and was prompted by Tom Brokaw to chime in on the matter. She immediately said that Romney needs to stop sounding so rehearsed and "speak the truth."
"People have the sense that Romney reads what's handed to him, and I don't think that's the real Romney," Wallace said. "I think there's a nervousness about the way he presents himself, because after you've made a bunch of mistakes, you get overhandled, overmanaged." She added that he should "pull back the curtains" and needs to start "calling things as he sees them" without huddling with advisors first.
"The problem with Romney," Wallace said, "is that we have this feeling that he doesn't see what we see and he's afraid to say what's going on. And I think we see that."
Watch a clip of the discussion below, courtesy of MSNBC:
Have a tip we should know? [email protected]