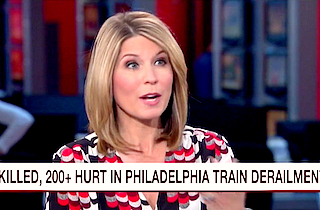 Morning Joe guest Nicolle Wallace and host Joe Scarborough spoke "Republican to Republican" Thursday morning — they really should get secret decoder rings* — on why the GOP doesn't more forcefully take up the issue of modernizing infrastructure.
"Why don't we more aggressively support infrastructure when this means good business, more money, bigger economy?" Scarborough wondered.
"Why don't we find the Amtrak corridor in every part of the country?" Wallace asked. "I know that infrastructure spending gets bogged down in regional politics, but there is an infrastructure crisis in every part of the country and I don't know why we didn't steal this issue from the Democrats…Why don't we as Republicans take this on and find a conservative way that puts money back into the economy?"
RELATED: Megyn Kelly Goes Off on Amtrak Reactions: 'How Exactly Did the Infrastructure Fail?'
"I think in this Republican primary, we'll have a pretty in-depth conversation about education," she continued. "I don't see how we see people getting to these hubs of higher learning if we don't have ways to get them there. I don't know why we don't seize this issue back from the Democrats and outflank them on infrastructure spending."
The Amtrak derailment in Philadelphia has restarted a conversation about infrastructure spending, though it is unclear that old tracks or faulty equipment caused the crash. Nonetheless, House Republicans slashed Amtrak's spending yesterday, so now's as good a time as any.
Watch below, via MSNBC:
* If they were secret, I guess we wouldn't know about them. So maybe they already have them.
[Image via screengrab]
——
>> Follow Evan McMurry (@evanmcmurry) on Twitter
Have a tip we should know? tips@mediaite.com