Night and Day: CNN Reports 'Dismal' Obamacare Numbers, MSNBC Says '100% Higher Than Yesterday'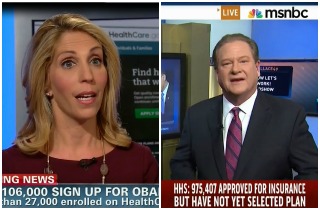 On Wednesday, President Barack Obama's administration announced that just over 106,000 people had enrolled in or shopped for private health insurance on either the state or federal level insurance exchanges. Whether one believes these enrollment figures are underwhelming or satisfactory might depend on what cable news network they were watching. While CNN reported that these figures were "dismal" for Affordable Care Act supporters, MSNBC host Ed Schultz noted that "this is the way the law was designed to work."

Dana Bash, CNN's chief congressional reporter, reported that Democratic aides on the Hill have told her the president's allies in the House will be forced to support a GOP proposal on Friday to reduce the pain felt by millions of people losing insurance if the White House does not provide them with another option.
"The reaction on the Hill to these dismal numbers that were released – these initial numbers – a lot of Republicans I'm sure were saying 'I told you so,'" CNN anchor Wolf Blitzer asserted. "But Democrats were pretty disappointed, too."
"Absolutely, they were disappointed," Bash agreed. She revealed that Congressional Black Caucus member Rep. Marcia Fudge (D-OH) told her "the numbers were very low and disappointing" and "it's bad."
But if you were watching MSNBC on Wednesday afternoon, you saw Ed Schultz deliver an entirely different take on those same figures. After issuing a friendly yet terse admonishment of former President Bill Clinton for buying into what he called Republican "talking points" on the ACA that have "infiltrated" the Democratic Party, he went on to describe how the enrollment figures were actually encouraging.
"Obamacare is about making t market better," he added. "Getting rid of junk insurance."
"This is about reform. It's not about appeasing people when they get upset when they get a cancellation notice in the mail saying 'you got lousy insurance,'" Shultz exclaimed.
Turning to the enrollment figures, the MSNBC host put a brave face on the situation.
"Holy smokes, we're 100 percent higher than yesterday?" he declared. "And that's just for October."
"But here's the kicker," Schultz added. "Nearly one million people have been approved for a private plan under Obamacare."
"They are still shopping. They haven't chosen. It's the shopping season," he concluded, indicating that the enrollment figures were not where supporters of the health care reform law would like. "This was the way the law was designed to work. They give you options. Nobodies holding gun to your head that you have to do it in the next six hours."
Night and day.
[Photo via screen grabs ]
— —
> >Follow Noah Rothman (@NoahCRothman) on Twitter
Have a tip we should know? tips@mediaite.com