Nikki Haley On Fox & Friends: It's Amazing 'What A Bully Obama Has Suddenly Become'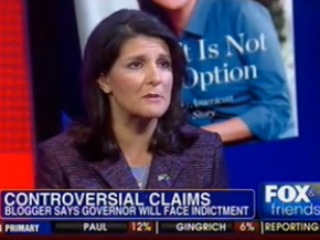 South Carolina governor Nikki Haley stopped by the set of Fox & Friends Wednesday morning where she spoke, in part, about Rep. Paul Ryan's plan and reports that she is being investigated for tax fraud.
"How do you not get angry at that?" Haley asked of President Obama calling Ryan's budget plan radical. "I mean, this is a man that doesn't understand the increase in debt. This is a man that doesn't understand that spending has to stop. And this is a man who continues to go back to the New Deal himself, thinking government is the answer to everything that's wrong."
RELATED: Gov. Nikki Haley On The View: 'Women Don't Care About Contraception'
When asked about news reports that she is being investigated by the Department of Justice for having possibly committed tax fraud, Governor Haley explained that "what this comes down to is the IRS issued a report that there never even was an examination. It was completely false."
She also criticized the media for picking up news items written by "unaccountable bloggers that cite anonymous sources."
"Blogs are taking over more and more," she continued, "but they're causing more problems because so much of it's not true. So you end up causing distraction as opposed to just focusing on governing and policy."
When asked about health care, Haley offered some criticism of the President:
We asked him to speed the track that it was on. What is amazing is what a bully President Obama has suddenly become. Here was a man that came in with "hope and change," and now he's bullying his way. He's bullying his way on Paul Ryan, saying that he's not coming up with an adequate budget, now he's bullying the Supreme Court, saying "no, they won't reverse this, they won't go against this on this." That's not how things work. He has to lead. He shown no sort of leadership when it comes to balancing the budget. He's shown no leadership when it comes to allowing the states to do the will of the people. He continues to say no. To everything.
Have a look at Governor Haley's interview, via Fox News:
Have a tip we should know? tips@mediaite.com