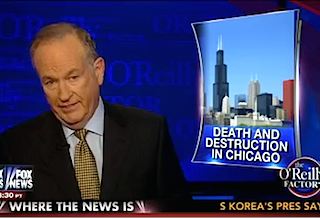 The Wall Street Journal's Jason Riley thinks that if Bill Clinton was "the first black president despite appearances," then perhaps Bill O'Reilly "ought to be considered the first black prime time cable news host."
In a new column titled "In Praise of Bill O'Reilly" posted Tuesday evening, Riley, who himself is African-American, commends the Fox News host's efforts to "speak honestly about the problems facing the black underclass." Instead of focusing on "what others should do to help blacks" as he says most television hosts do, O'Reilly "maintains—with logic and history on his side—that blacks must first help themselves."
As one example of O'Reilly's approach to race, Riley looks at the host's suggestion after an Easter weekend shooting in Chicago that that city "already has some of the toughest gun laws in the nation and that plenty of jurisdictions with fewer such restrictions experience much less gun violence." While O'Reilly's guest, a black pastor from Chicago, argued that young men in his community need a "better education system" and "better resources," O'Reilly countered by saying "you can't force kids to learn" and argued for armed soldiers in the streets.
"Ghetto residents do not need more people making excuses for black pathology, which is mostly what they get from cable commentators, especially the black ones," Riley says, without naming any specific names. "What blacks need is an honest conversation about black culture. Mr. O'Reilly is providing a public service by conducting one."
Aside from the one recent segment Riley mentions, O'Reilly has dedicated a significant amount of time to examining black culture, especially over the past year or two. He has accused the actual first black president of failing America's black youth, called black leaders like Al Sharpton and Jesse Jackson "race hustlers," and he's even gone after artists like Jay-Z and Beyoncé for promoting so-called "gangsta culture." He once advised Oprah Winfrey that the best course of action when facing racism is to simply "ignore" it.
It's true that cable news still has a serious lack of diversity in prime time. Of the permanent hosts between 8 and 11pm on CNN, MSNBC and Fox, only two are women (Rachel Maddow and Megyn Kelly) and all of them are white. Don Lemon, who has actually agreed with some of O'Reilly's views on race in the past, has recently popped up a lot in CNN's 10 p.m. slot, but they have yet to give him his own show.
To flip Riley's deliberately outrageous thesis on its head: Just as Bill Clinton was not actually America's first black president, Bill O'Reilly should be considered our first black primetime cable news host. That honor will have to go to someone else — someone who perhaps won't spend so much time blaming "black culture" for the problems facing the black community.
Watch the segment Riley references below, via Fox News:
[photo via screengrab]
— —
>> Follow Matt Wilstein (@TheMattWilstein) on Twitter
Have a tip we should know? tips@mediaite.com