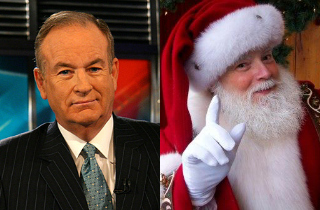 A story from the Daily Currant has been circulating the web claiming that Bill O'Reilly was arrested on Christmas Eve for assaulting a department store Santa in the Manhattan Macy's. The story is false and comes from a satire news website.
Satirizing the Fox host's long-standing battle against "secular progressives" who he believes have declared a "War on Christmas," the satirical website wrote: "According to local reports, the 63-year old conservative pundit was shopping at the venerated Manhattan landmark for a last-minute Christmas gift and became enraged when the on-site Santa wished him 'Happy Holidays' instead of 'Merry Christmas'."
With painstaking detail, the Onion-like satire described the "scene":
"The Santa was wishing everybody 'Happy Holidays' as they passed by. And most people were in a good mood, so they said 'Happy Holidays' back. But when he said it to O'Reilly, the dude went ballistic."

Johnson says that immediately upon hearing the phrase "Happy Holidays", O'Reilly dropped the package he was holding, turned to face the Santa, looked deep into his eyes and unleashed a verbal tsunami of anger.

"What the fuck did you just say to me? What the FUCK did you just say?" O'Reilly screamed, "Did you seriously think you could get away with insulting me – ME! – with your anti-christian, secular 'Happy Holidays' filth?"

"Hey buddy, I don't know what your problem is," the Santa replied, "But its my job, I can say whatever I want."

"Oh really pinhead?" O'Reilly retorted as he stepped into the Santa's face "You think you can just abandon the Judeo-Christian values that made this country great? Fucking say whatever dumb fucking communist phrase that comes to mind?"

"Pretty much," replied the Santa.

"Oh yeah? Well I got a little present for you Karl Marx," O'Reilly threatened as he raised his fist, "Merry Christmas motherfucker." He then connected a punch straight to the Santa's nose.
Clearly satire. And yet the Internet has largely fallen for the story. Twitters users have taken to mocking the popular primetime host for the entire "ordeal":

But as TVNewsInsider quickly pointed out:

So move along, Internet folk. Bill O'Reilly was most certainly not arrested for punching a Macy's Santa while employing a Die Hard-like catchphrase.
— —
>> Follow Andrew Kirell (@AndrewKirell) on Twitter
Have a tip we should know? tips@mediaite.com