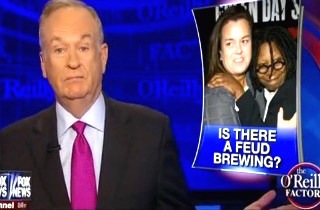 This puts me in the delicate position of standing at Rosie O'Donnell's side, a truly toxic place for anyone (even on the days O'Donnell decides to wear shoes). But this has to be done.
A few conservative-ish media outlets picked up on a clip from The View this week wherein the gals on the ABC talk show were chatting about President Barack Obama's so-called "latte salute."
In the clip, featured at both RealClearPolitics and The Daily Caller, viewers see View co-host Whoopi Goldberg dismissing the salute as a drummed up controversy, to which O'Donnell says, "Yes, and you know, I want to end this debate, so: racism!"
The crowd laughs and claps before Goldberg goes on a little lecture.
"Oh, honey, you know, if you ever really met a racist, you wouldn't throw that word around quite as lightly," she says. "Because racists don't play. They're not cute. They're not cuddly. Nobody says racist just because. There is a history in the country that says hey maybe we got to think about this. So, if you don't get it, I assure you, the indigenous people of Alaska do. They know exactly what we're talking about."
"Bravo," O'Donnell replies.
The show then went to commercial.
RealClearPolitics headlined the moment, "Rosie O'Donnell: Outrage Over Obama Coffee Salute Due To 'Racism.'"
And The Daily Caller: "Rosie O'Donnell Blames 'Racism' For Outrage Over 'Latte Salute.'"
Fox News's The O'Reilly Factor got in on it, too. "The other day Ms. O'Donnell stated criticism of President Obama's coffee cup salute was racist," said the show's anchor Bill O'Reilly Wednesday before playing the clip.
All three then framed Goldberg's remarks as a type of lecture to O'Donnell on the real definition of racism.
The rub here, however, is that O'Donnell was not being serious when she brought up racism. And Goldberg was not talking to O'Donnell in her lecture. She was addressing former Alaska Gov. Sarah Palin (R), though Palin was not actually on The View's set.
Viewers who watched the full segment know this because Goldberg is: 1. Looking at the camera, not at O'Donnell during her tirade; and 2. The entire View segment was centered on Palin's recent speech at the Values Voter Summit, during which she mocked the Obama salute.
Palin had said in her speech (part of which was played on The View) that, "Those truly prejudice folks — just remember this — they scream racism our way just to end debate." She was talking about liberal Democrats who counter any criticism of Obama by labeling his opponents as racists.
O'Donnell was referencing that part of Palin's speech when she jokingly yelled, "racist!" at Goldberg. And Goldberg's reference to "indigenous people of Alaska" at the end of her garbled soliloquy was a shot at Palin.
O'Reilly's take on the matter was at least less wrong than RealClearPolitics and The Daily Caller. His colleague Martha McCallum offered somewhat of a fuller picture, noting that Goldberg was "calling out Rosie a bit and Sarah Palin a bit as well." McCallum padded her assertion with a recent anonymously sourced report by The Daily Mail that said Goldberg and O'Donnell recently got into a shouting match between commercial breaks on The View's set.
It's possible that Goldberg was lecturing both Palin and O'Donnell but there's no proof (aside from The Daily Mail's report that had nothing to do with the segment in question).
O'Donnell does say her share of grody things (including that an NFL penalty from over the weekend is somehow responsible for rallying the U.S. to go to war against Muslims). But this just wasn't one of them.
Now, excuse me while I step away from defending O'Donnell and go take a tomato juice bath.
Watch the full clip from The View, via ABC:
And here's O'Reilly's segment on the matter, via Fox News:
[Photo via Fox News/screen grab]
Have a tip we should know? tips@mediaite.com