No Ducking The Issue As Fox News, CNN Dive Into Debate Around New Hampshire School Banning DodgeBall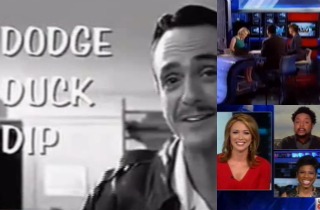 The debate drags on as cable news' disputers got their dander up over a dispatch which declaimed that the dear diversion of dodgeball may soon be defunct.
The news that a New Hampshire school is planning on eliminating the game of dodgeball from their physical education curriculum became the impetus for Fox News Channel and CNN to dip into the issue on Thursday and for a variety of panel guests to either praise the game or condemn it over its celebration of "human targeting."

Fox News anchor Megyn Kelly said that the school district in question is worried that the time-honored game may promote "violence and bullying."
"I love dodgeball," Salon.com columnist Sally Kohn disclosed. She said that when she was a kid and played the game the school-age participants called each other names – including Kohn herself. Nevertheless, she noted that dodgeball is a good outlet for kids to release some youthful energy.
Kohn noted that bullying and dodgeball are two distinct problems.
GOP Strategist Tony Sayegh called the ban "ridiculous." "This is part of life," Sayegh said, noting that eliminating games that require, as part of their structure, elimination is not ultimately helpful for children to grow.
Kelly was less sanguine about the game of dodgeball, saying that she was concerned about sending children into an environment where they can get hurt.
Meanwhile, on CNN, the panel guests were slightly more cautious about the long-term impact that dodgeball can have on a child's developmental growth.
"I can see doing away with dodgeball," said radio host Jacque Reid. "I also remember those kids that weren't good at it, and it was a nightmare for them."
She said that kids who are not athletic should not have to experience the "nightmare" of dodgeball.
Editor-in-chief of AlwaysAlist.com, Jawn Murray, agreed with Reid. "There are plenty of other physical activities and games these kids could be playing without ones that are using these kids as human targets," Murray said.
> >Follow Noah Rothman (@NoahCRothman) on Twitter
Have a tip we should know? tips@mediaite.com